Modern computers and laptops can handle a massive arsenal of sounds and synthesis, allowing you to access practically any imaginable sound. But what are the best synth plugins? Which one will provide the most satisfying benefit for you?
Our pick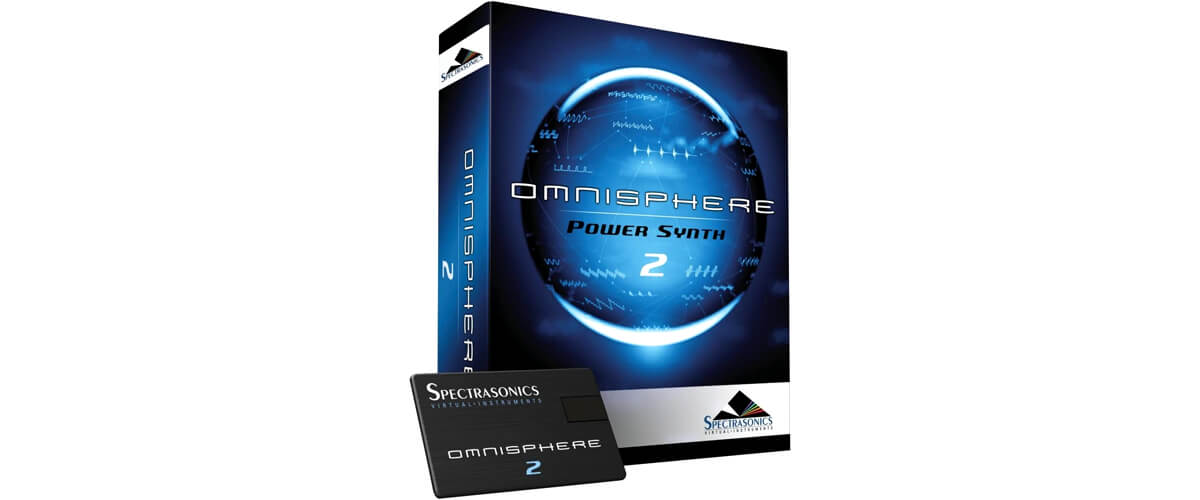 Spectrasonics Omnisphere
Best synth VST
Omnisphere is a flagship synthesizer of Spectrasonics used by top artists all over the world because of its extremely flexible with many synthesis types and over 14,000 inspiring sounds.
Read the full review
.
Not all plugins are created equal. Some VSTi synthesizers stand out from the crowd due to their architecture, vibe, and performance. When composing music, software synths must evoke a creative or emotional reaction.
For this review, I handpicked and carefully tested the most popular instruments so that you can choose a perfect fit for your needs!
Hardware vs synth VSTs
Undoubtedly, playing a live synthesizer and adjusting its parameters in real-time is an enjoyable experience for music enthusiasts. However, in terms of sound quality, modern virtual instruments sound just as good as analog ones, particularly synthesizers – the signal transmission technology is successfully embodied in digital format, allowing you to get a highly professional sound with a low noise level and wide frequency range. Next, the potential for effects, modulation, and automation is practically endless when working with synth VSTs. Finally, virtual instruments are clear winners when it comes to portability and convenience.
Best synth VST reviews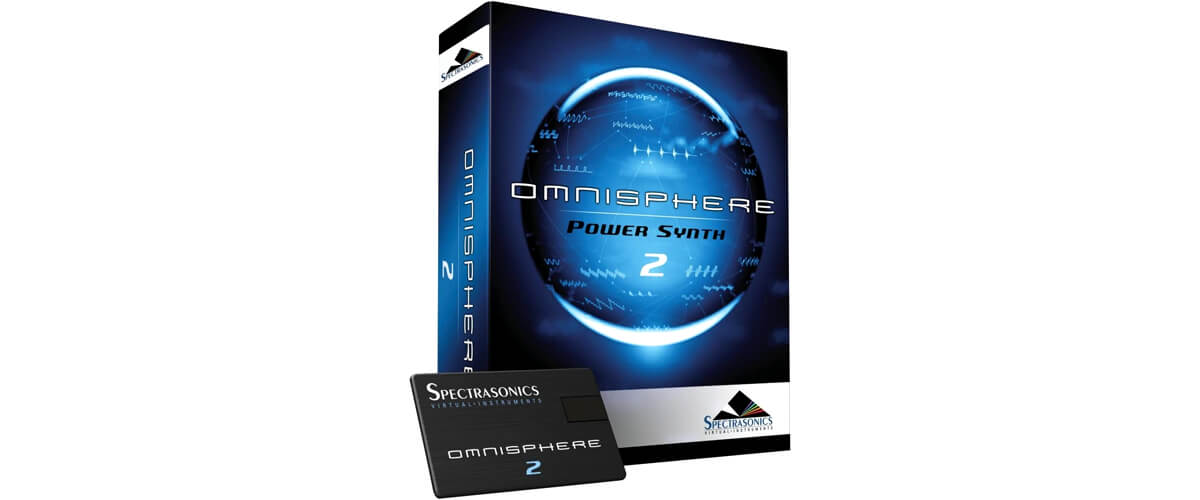 Spectrasonics is a well-known brand in the music industry. This California-based enterprise has been making innovative audio products since its founding in 1994. Experts highly value their award-winning instruments. And the Omnisphere is no different!
With superior sound quality and a wide range of sonic manipulation capabilities, this highly versatile synthesizer VST offers almost limitless options when it comes to crafting unique, impactful sounds for your music projects. It's perfect for both live performances and electronic music production sessions, allowing you to explore previously unexplored realms of sound design and compositional possibilities.
The integration of hardware synths into the interface offers a unique experience that bridges the gap between software and hardware. It feels like you play the real thing – love it! Next, the Humanity and Life feature allows you to manipulate the sound in real time with unprecedented control and creativity. The synthesis engine gives access to an enormous range of sounds, textures, & effects, and numerous presets allow crafting amazing signature sounds without having to create from scratch. Audio import has also been implemented so that you can use your own audio samples as a starting point or as finishing touches for your sound design. And with the standalone recording feature, you can record straight from Omnisphere for quick streaming sessions or live performance sets.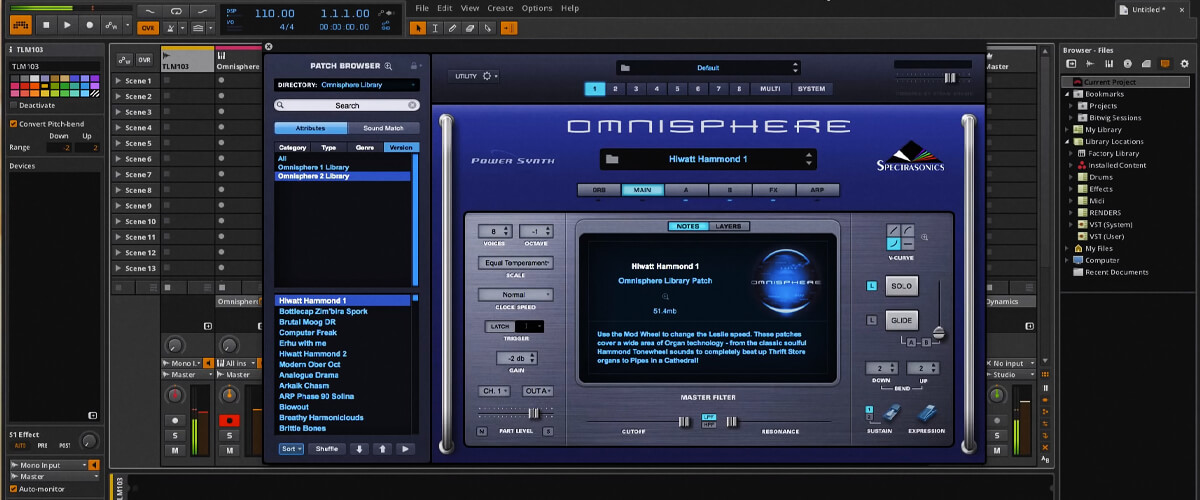 Spectrasonics boasts a huge library – more than 14,000 sounds. Its diverse sonic palette incorporates digital synthesis, analog modeling, real-time sampling, Granular Synthesis, psychoacoustic manipulation, and more. It even has a separate Bob Moog Tribute library, which was created by 50 artists and is based on the sounds of the legendary Moog synthesizer. The result is rich atmosphere creation with its reverberative ambiance perfectly capturing the mood of the music.
In the film industry, the Omnisphere is famous for its voluminous and, at the same time, airy pads. Furthermore, with a huge selection of third-party presets available, there's something to fit every production style – from cinematic soundscapes to thumping beats – Spectrasonic Omnisphere has it all!
All these sophisticated features don't mean this plugin is difficult to use. On the contrary, it has an intuitive interface and a simple setup process, so even those new to this type of technology can get up and running quickly. However, be sure to have a powerful computer for this babe – it requires much storage space and a solid drive. It's better to place it on an SSD.
Spectrasonics Omnisphere is the best synth plugin the market has to offer. It has everything you need to make sure your content reaches an audience in a smooth and organized fashion. Of course, the most prominent feature of this instrument is its super extensive library. But it also stands out against the crowd due to its flexible and robust feature set, making it suitable for many applications. You can use this plugin literally for any music genre!
Key specs
Platform: Mac, Windows.
Formats: AAX, VST 2, VST 3, AU, Standalone.
System requirements – Mac: macOS X 10.13 or higher, 2.4 GHz processor or higher, 8 GB RAM, 64 GB disk space, 64-bit only.
System requirements – Windows: Microsoft Windows 7 or higher, 2.4 GHz processor or higher, 8 GB RAM, 64 GB disk space, 64-bit only.
Arturia V Collection 9 – great synth bundle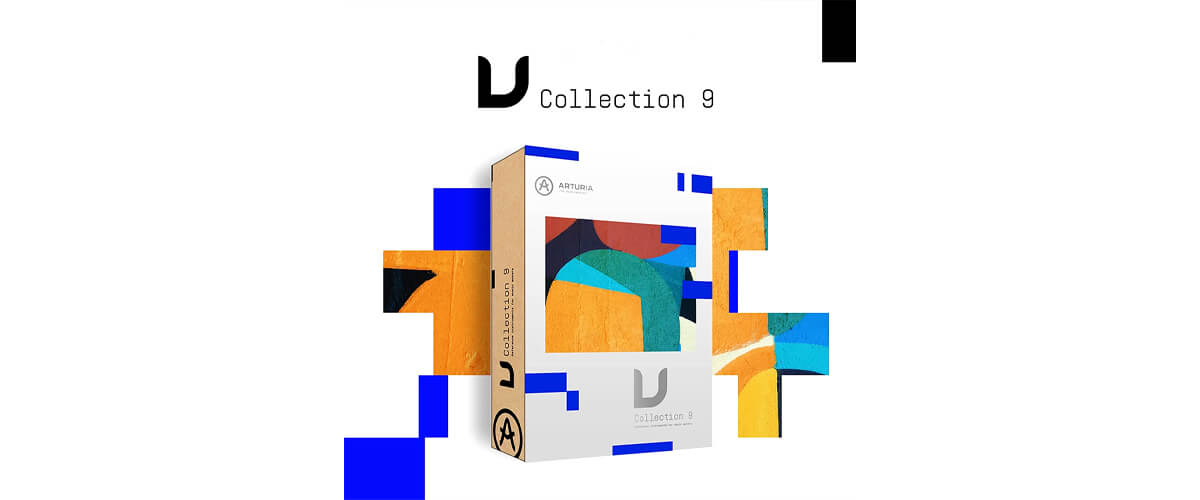 There's a lot to like about Arturia V Collection 9 – it's a powerful and comprehensive plugin designed to meet the highest demands of modern musicians, producers, and sound engineers. This bundle of 33 instruments, 14 exclusive sound banks, and 9,000+ presets provides musicians with an unparalleled selection of tools for creating music in absolutely any genre imaginable. From classic analog synths to digital samplers, keyboards and organs, acoustic & electric pianos, and augmented acoustic instruments – this soft synth offers something for everyone. And I do love how accurately it reproduces the sound of each model!
Furthermore, Collection 9 boasts Analog Lab V – a hub for all Arturia instruments. I find it super convenient since you can access any of the virtual instruments and their libraries by running only one plugin. It'll allow you, for instance, to make creative use of Arturia's legendary synth sounds from classic machines such as Moog Modular V2 or Arp 2600V3. Just imagine having an endless selection of classic analog synth sounds right at your fingertips!
For those who enjoy tweaking the knobs of wavetable VSTs and making up unique sounds, Arturia also offers a collection of digital synths, giving musicians full control over the sound. Another thing I love about this bundle is its Augmented acoustic instruments, which combine innovative hybrids of sampling, synthesis, and musical expression.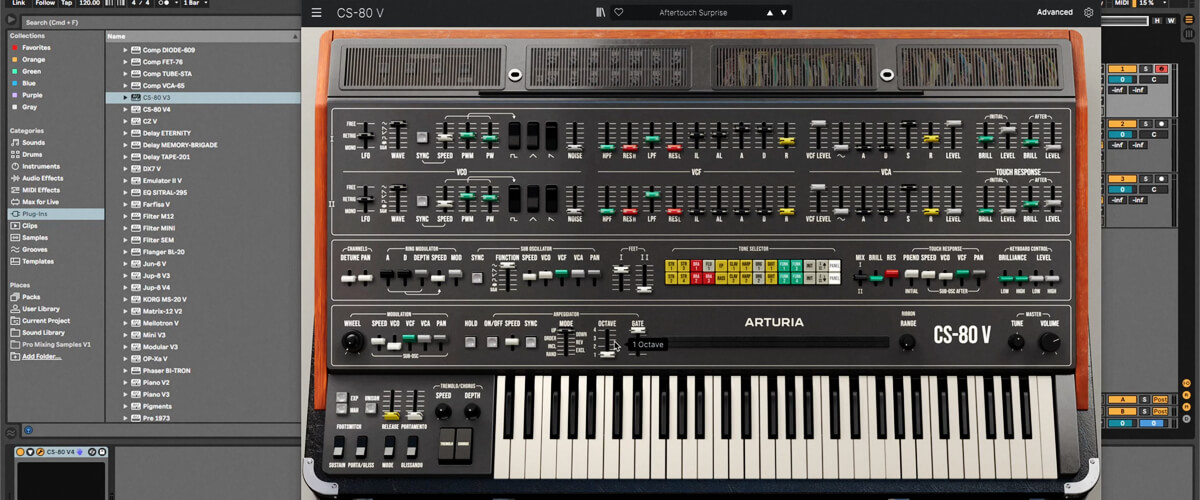 Next, the user-friendly interface makes it easy to get started regardless of your experience level; the intelligent features seamlessly guide you through each process. Arturia has made it incredibly simple to browse through all the sounds or edit specific parameters within each instrument. At the same time, easy MIDI mapping ensures your controller keyboard is ready to go right away. Plus, even if you are new to synthesis, you can quickly get up and running with no fuss due to the provided tutorials and preloaded presets.
In terms of sonic quality, Arturia V Collection 9 consistently delivers impressive results. The powerful synthesis engines accurately capture the nuances of vintage instruments as well as offer exciting new sounds that were previously impossible to create with hardware synths. Many sounds are pre-programmed with rich layers that make them instantly ready for use in any production style or context. Plus, all the presets are perfectly balanced in terms of volume and dynamics – adding an extra layer of convenience when crafting complex tracks from scratch without worrying about gain staging.
There are some minor downsides to V Collection 9, which I should mention so that you have a complete picture. Firstly, since the bundle is enormous, it's CPU-heavy. Secondly, some synthesizers take up a lot of space on the laptop screen. And thirdly, initial installation requires time, but you do it once. However, I guess these drawbacks are really insignificant, considering all the great features mentioned above, and they don't impact the overall performance.
Arturia V Collection 9 is the best synth VST in terms of versatility. It offers a vast library of sounds that span from classic to avant-garde. To top it off, the instrument features thousands of world-class presets that can be tailored and twisted to capture any sound you can imagine. So whether you are a novice or a seasoned synth head, Collection 9 has the tools to cover all your production needs, from cutting-edge leads to immersive atmospheres – pure sonic heaven. With this in your arsenal, it's difficult to imagine you'll ever need another virtual synthesizer. Worth every penny and even more!
Key specs
Platform: Mac, Windows.
Formats: AAX, VST 2, VST 3, AU, Standalone.
System requirements – Mac: macOS X 10.13 or higher, 3.4 GHz 4 cores processor or higher (or M1), 4 GB RAM, 32 GB disk space, 64-bit only.
System requirements – Windows: Microsoft Windows 10 or higher, 3.4 GHz 4 cores processor or higher, 4 GB RAM, 32 GB disk space, 64-bit only.
VPS Avenger – perfect for EDM
Tested by hundreds of musicians and time-tested, VPS Avenger is a mastodon in the world of electronic music. Actually, it's regarded as one of the most vital virtual instruments for EDM. It provides you with literally everything related to electronic music and its sub-genres. The synth features a wide range of sound elements – from atmospheric pads to dense leads, sharp plucks, velvety & tight basses, saturated 808 bass, and growl bass.
My favorite thing? Avenger comes with custom drum kits featuring high-quality kick drums, which is a must-have for any electronic music production. The plugin also has an integrated sequencer and arpeggiator, so you can easily create intricate patterns. Moreover, its effects section includes gated reverb – the essential tool for creating the pulsing and rhythmic feel of EDM tracks. You can also apply delay, chorus, phaser, flanger, and many other effects to shape your sound further.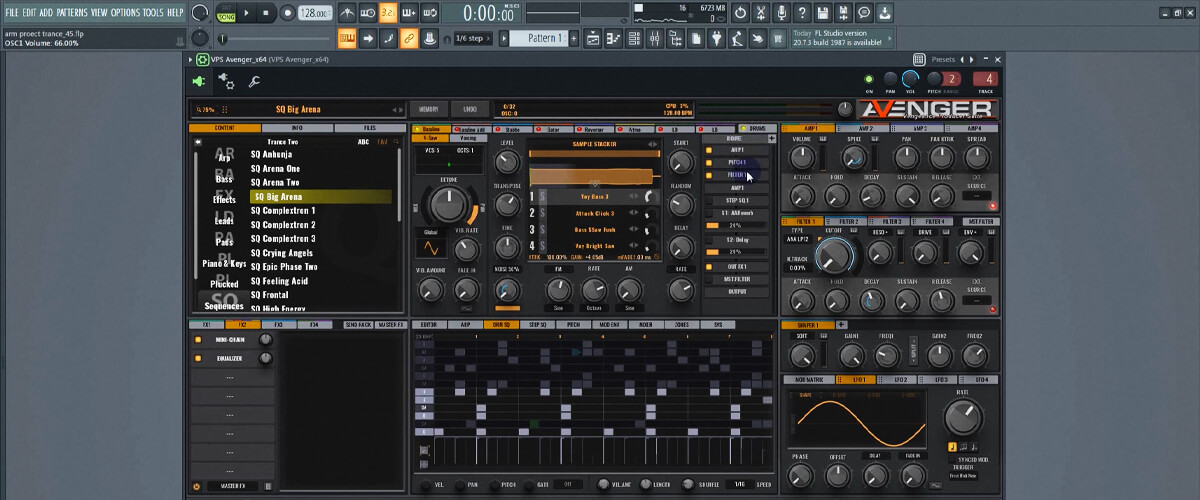 VPS Avenger has an intuitive interface that allows you to quickly adjust filters and envelopes for each individual element in the sound design process. This makes it easy to tweak your sounds in subtle but effective ways without having to be an expert on synthesis techniques. It also features a flexible routing matrix that lets you arrange different components within the instrument while keeping everything well organized. However, novice users may find the matrix a bit complicated to use.
Being powerful and full of features, this plugin synth is quite taxing on computer resources and requires much processing power. Another disadvantage of Avenger is that it isn't particularly well-suited for other genres of music. While it has plenty of features that make it ideal for creating modern dance music or EDM tracks, many users have reported difficulty getting good results in more organic genres like folk or jazz. The sound quality in these styles may not be up to par with what you'd get from dedicated plugins.
Overall, VPS Avenger is one of the top choices among musicians who are looking to produce electronic dance music quickly and efficiently. It'll provide enough room for experimentation with its great array of sound-shaping tools and effects section. Whether you're new to producing or already have some experience under your belt, this plugin is worth adding to your arsenal!
Key specs
Platform: Mac, Windows.
Formats: AAX, VST 2, VST 3, AU.
System requirements – Mac: macOS X 10.11 or higher, IntelMac 2.8Ghz (or M1), 8 GB RAM, 64-bit only.
System requirements – Windows: Microsoft Windows 7 or higher, Intel Core 2.8Ghz with AVX extension, 8 GB RAM, 64-bit only.
Imaginando FRMS – granular synthesizer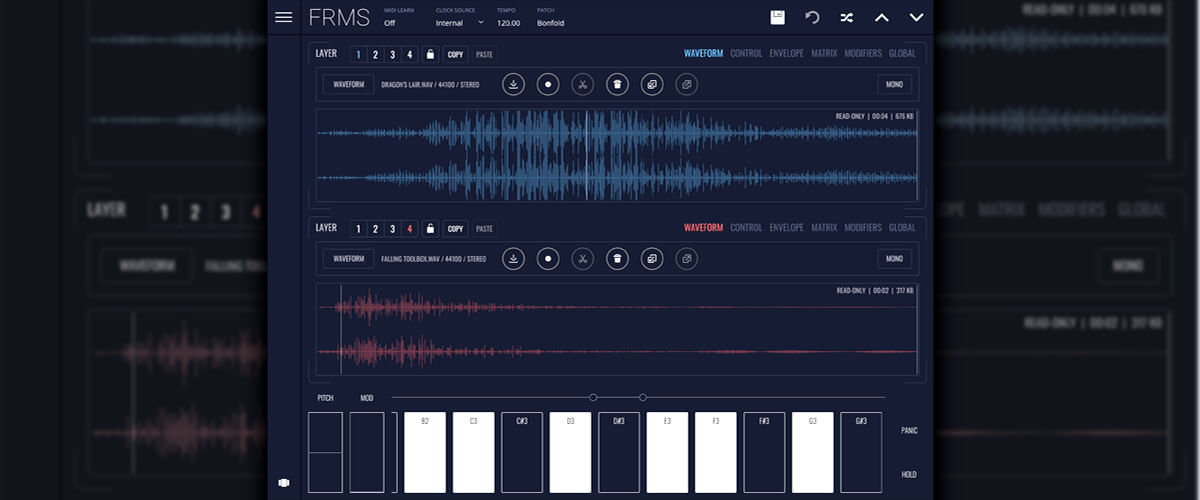 The FRMS synth plugin is a powerful instrument for experienced sound designers. It offers three distinct synthesis engines – subtractive, granular, and FM – and it also features a unique layering system that allows up to four layers of sounds per voice. This makes creating complex textures and evolving soundscapes a breeze.
My favorite thing about this software is its granular synthesis that helps create very unusual sound effects (drone imitation, glitch effects, etc.), making it perfect for sound design. Many musicians also appreciate the fact that they can add their own samples to the instrument in addition to the numerous built-in presets.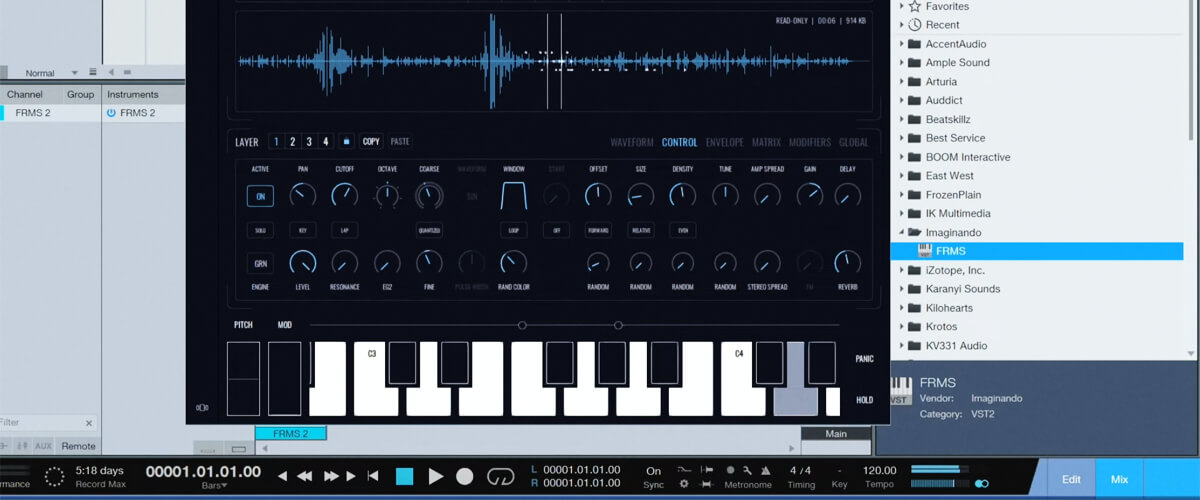 Thanks to the integrated oscillator, you can take advantage of more familiar FM synthesis, generating any tonal sounds, including bass, pads, keys, leads, bells, and more.
When all these features are combined with an audio recorder, you get an excellent toolset that can help take your music production to the next level. So it's no surprise that FRMS has become one of the most popular synthesizer plugins on the market today!
If you understand the basis of FM and granular synthesis and need a high-quality instrument for sound design, look no further than FRMS. It won't disappoint you!
Key specs
Platform: Mac, Windows.
Formats: AAX, VST 2, VST 3, AU, Standalone.
System requirements – Mac: macOS X 10.13 or higher, 350 MB disk space, 64-bit only.
System requirements – Windows: Microsoft Windows 10 or higher, 200 MB disk space, 64-bit only.
Reveal Sound Spire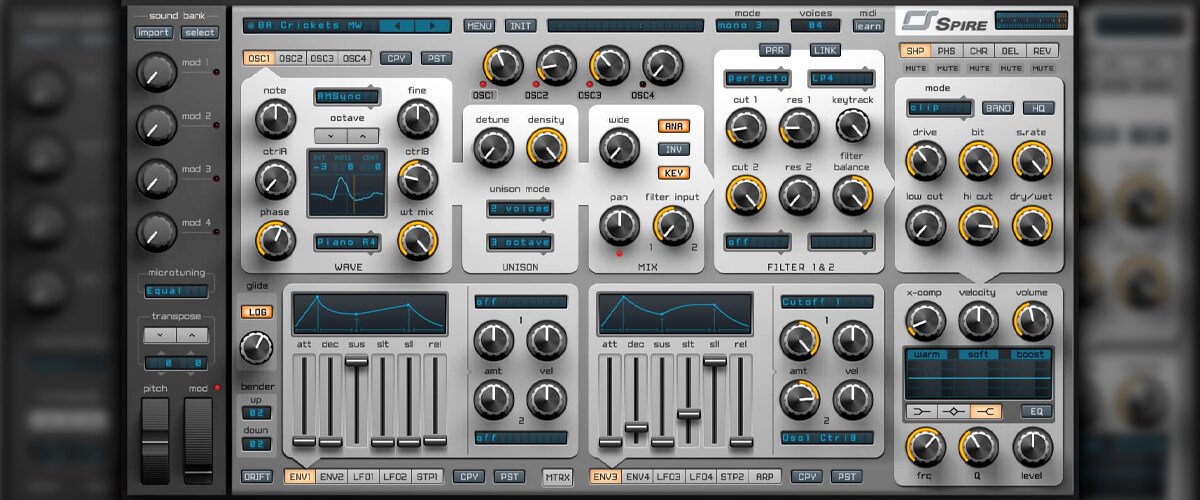 Spire is a timeless masterpiece! It's great for creating electronic music, RnB, and Hip-Hop, and I'm sure this synth VSTi has been used for making hundreds of hits.
Although the instrument does not have the most convenient oscillator and filter modification, nor the most flexible ADSR envelope, I do consider it to be its peculiarity. The uniqueness of the timbres is achieved due to the fact that many controls are mixed – with one synthesizer knob, you can combine the effects of 2 different filters. Spire is the right software to try if you want to add individuality to synth sounds.
The software comes with a decent package of libraries, allowing users to quickly find the perfect sound for their project in no time at all. Additionally, it can be extended with a huge number of libraries from both third parties and the public domain. That way, you'll find literally thousands of user-created libraries for this plugin.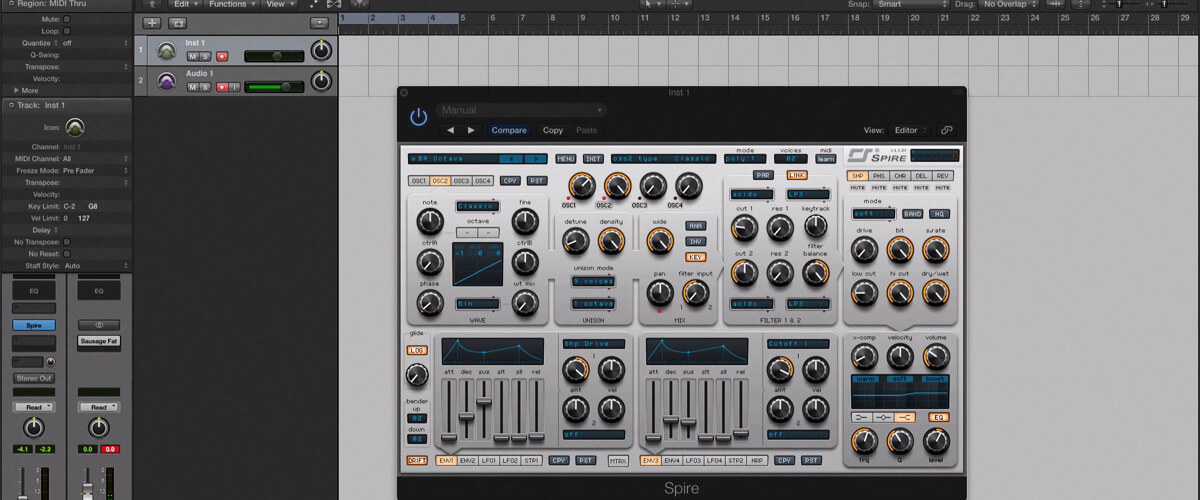 Another thing I love about Spire is its low storage requirements; even though the instrument has a large set of sounds and effects, it still fits within the minimal space needed for most modern production systems.
One potential downside is that navigating around the interface is a bit difficult due to the complex layout. However, once you get used to it, you'll find that every parameter is easily adjustable, and you can quickly create unique sounds without having to fiddle too much with settings or menus.
If you are seeking a decent yet affordable synth plugin for creating electronic music, take a closer look at Spire. With its big library and the option to download additional ones from various sources online, you'll have plenty of opportunities to flex your creative muscles when producing tracks!
Key specs
Platform: Mac, Windows.
Formats: AAX, VST 2, AU.
System requirements – Mac: macOS X 10.8 or higher, Modern Intel, M1 or AMD processors required, 86-bit, 64-bit.
System requirements – Windows: Microsoft Windows 7 or higher, 86-bit, 64-bit.
Best free synth VST review
VITAL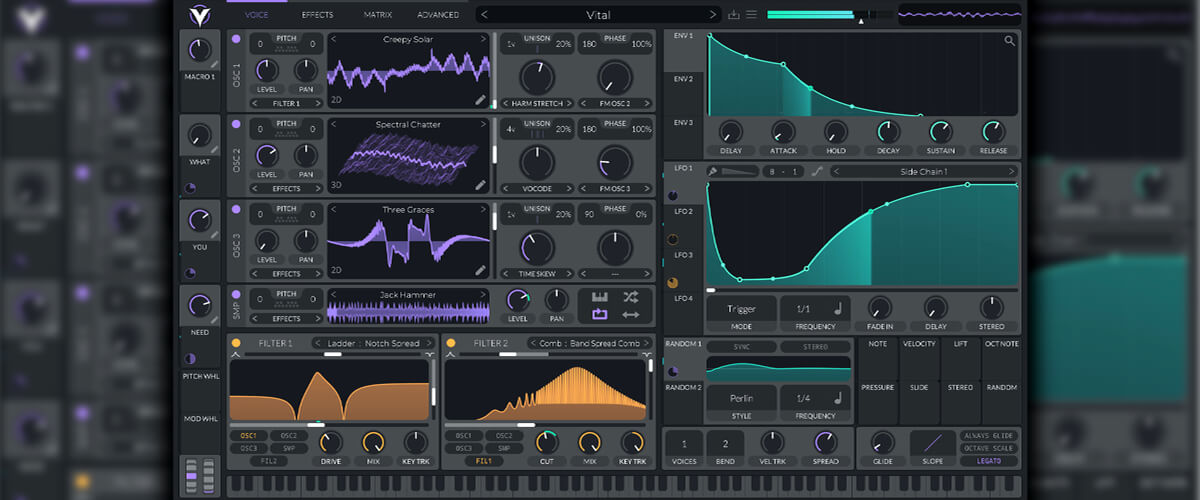 Vital is the best free synth VST, and here is why – it has all features of paid versions. The only limitation is the number of available wavetables and presets. However, both the design and functionality of this instrument are inspired by the groundbreaking xfer Serum (that's why I didn't include it on my list), so wavetables, which you can find for Serum, are suitable for Vital as well.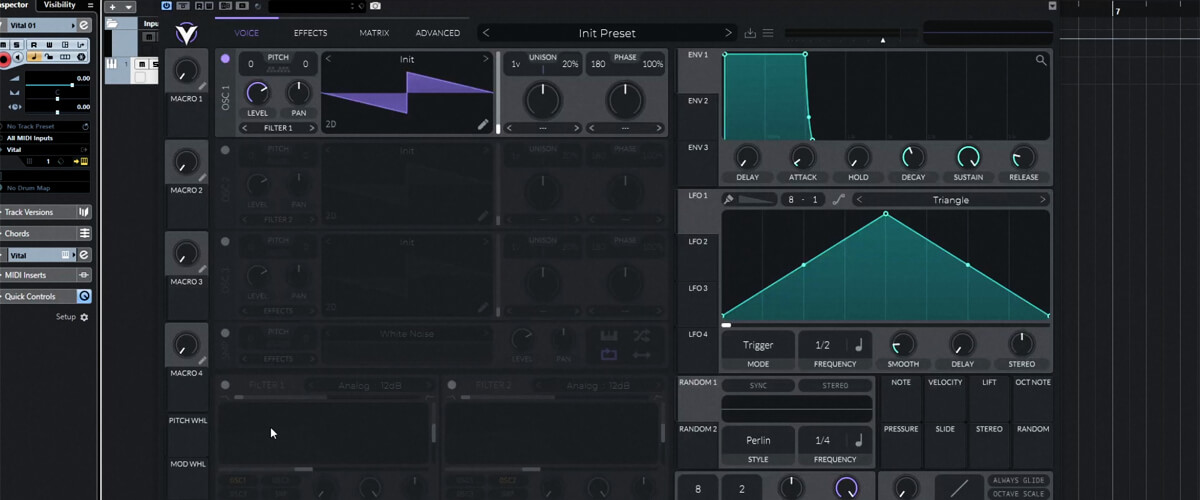 Moreover, the effects section and interface are very similar in both plugins, meaning you'll easily understand all the nuances of the oscillators and the routing matrix. Vital is great for electronic music; thanks to it, you can wind up punchy basses for EDM, Trap, RnB & Hip-Hop, fat leads, and engaging plucks.
This synth is a full-fledged big player in the world of digital synthesizers. So if you need a free yet high-quality instrument, end your search here.
Key specs
Platform: Mac, Windows.
Formats: AAX, VST 2, VST 3, AU.
System requirements – Mac: macOS X 10.13 or higher, 64-bit only.
System requirements – Windows: Microsoft Windows 7 or higher, 64-bit only.
FAQ
What VST has the most sounds?
The most extensive factory sound library is in Omnisphere. ROMpler – with over 80 GB of sample libraries, gives you access to incredible sounds. It is also very nice that the Spectrasonics company cares about not only the quantity but also the quality of their sound libraries.
What VST do most producers use?
What distinguishes a good music producer from a beginner is the presence of the necessary "working tools" for the genres in which he works. It is implied that people choose for their collection those virtual instruments that are "out of the box" give excellent results and do not require additional interventions.
What types of sounds are used in VST synthesizers?
You can usually get any type of sound from a virtual synthesizer, even a
drum
. But the imitation of acoustic instruments from the point of view of the realism of sound is not convincing enough in the synthesized form.
Romplers can combine any samples with their further processing and the use of polyphony.
FM synthesizers work with wavetables and generate sounds familiar to electronic music. For example, basses, leads, pads, plucks, and bells.
Emulations of vintage synthesizers reproduce the operation of their analog circuits and filters, due to which a characteristic sound is achieved.
Granular synthesis is used to create soundscapes, textures, and atmospheres by dividing the sample into "granules" and then stretching or compressing them.
We are supported by our audience. When you purchase through links on our site, we may earn an affiliate commission at no extra cost to you.
Our newsletter
* We will never send you spam or share your email with third parties