Would you like to bring life, energy, and vibe to your mixes with saturated sounds? Then, you will need the best saturation plugins to improve your tracks and give them a new dimension. With this software, you can achieve an effect when the analog recording device or medium (such as a preamp or a tape machine) is driven too loud so that the sound it produces starts to break up. These distortions are pleasing to the human ear and will add a punchy character to pristine digital recordings.
You've come to the right place if you need more context regarding this sound effect. First, I will explain what saturation is and break down its common types. Moreover, in case you do not know where to start and how to pick the saturation plugin that will satisfy your needs, I've created a list of optimal saturation software components after carefully analyzing the market.
Our pick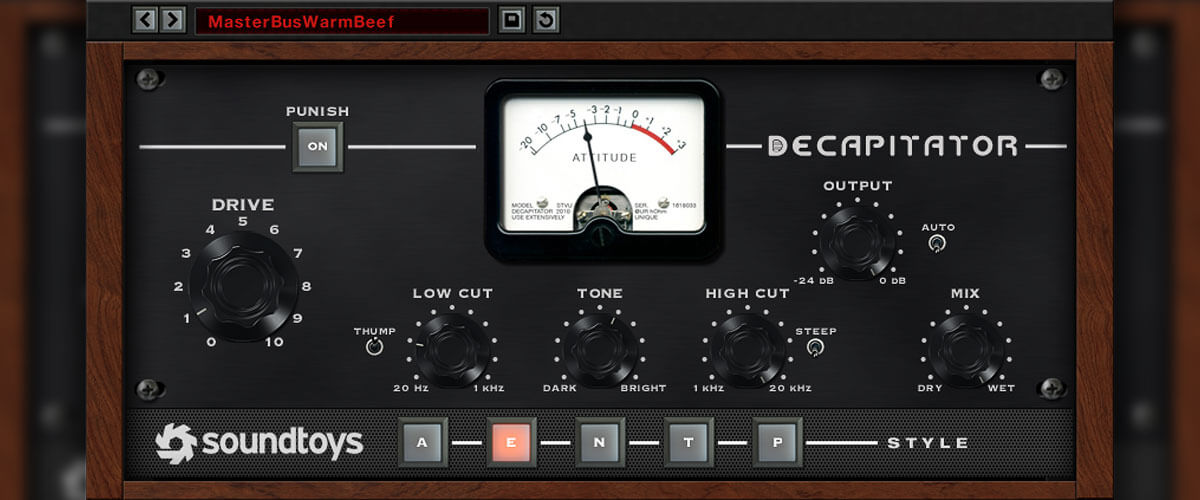 Soundtoys Decapitator
Best saturation plugin
With five different analog saturation models to choose from, Decapitator is perfect for adding character to every kind of track and instrument in your mixes.
Read the full review.
What is audio saturation?
In the world of music, saturation is a mix of distortion and compression that occurs due to overloading the recording device or other physical components of an electrical system.
Even though there are different flavors of saturation depending on the machine the sound is driven through, this effect generates harmonics and brings subtle forms of soft-clipping compression. Thanks to this, the sound becomes louder, punchier, and fuller. You can also expect saturation to add presence, warmth, and depth to the mix.
Types of saturation
Depending on the machine used for analog saturation, this effect can sound different and add various shades to your mixes. So, let's take a look at the most common saturation types.
Tape saturation
If you've been hunting for warmth in the saturated sound, it will be good to know that you can extract it from tape saturation. When the voltage level exceeds the tape's ability to record it, tape saturation happens.
Tape saturation plugins emulate the sound put through tape machines. They generate punchy distortion and harmonics by applying a controllable overdrive, so you will achieve harmonic distortion that will add dimension, fatness, and depth to your mix.
You can slap tape saturation on any instrument, but it will shine on lower-frequency ones like drums and bass.
Tube saturation
When evoking a classic sound in recordings is your goal, you should consider tube saturation plugins. These software components emulate the sound driven through tube amps when the electrons can no longer flow from the tube's cathode to the anode because of the positive charge created between the two.
Tube saturation provides the sound complexity our ears crave for. It enriches the plain sound with warmth and gives it a visceral, raw vibe. As you can balance the drive and output, you gain control over the level of distortion. However, saturation can have an aggressive edge when you push too hard.
Transistor saturation
Transistor saturation happens when the sound goes through transistor‑based circuits, and the current attains the highest specified value. This causes the sound to become brighter and more defined with mid to high harmonics.
The sound distortion achieved from the transistor easily cuts through other musical instruments. You can expect a fuller, more complex sound from this effect. The mix with transistor saturation becomes fuzzy, gritty, and textured.
Best saturation plugin reviews
Soundtoys Decapitator – best overall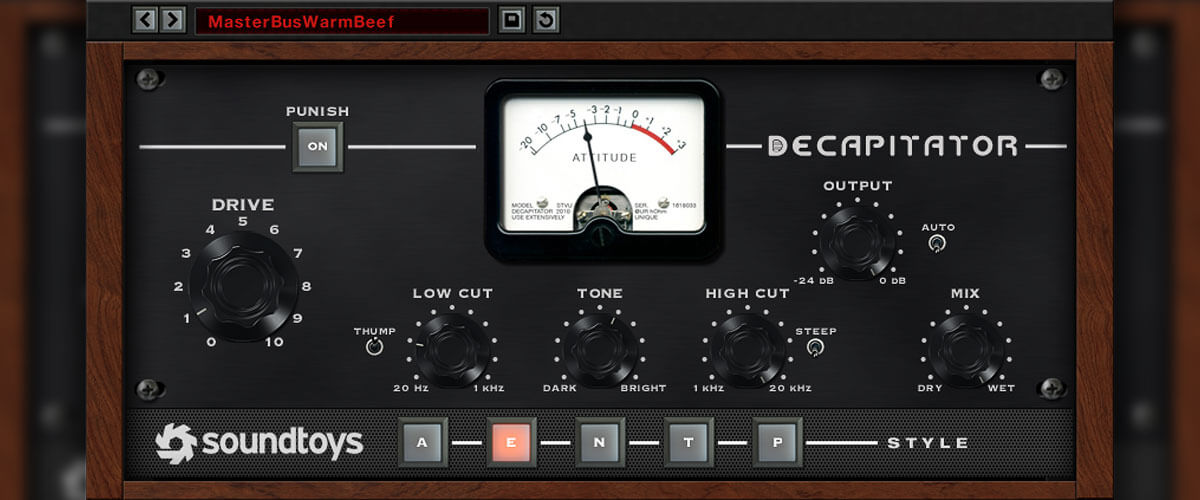 Would you like to get a secret saturation weapon for your arsenal? You will never go wrong by picking a Decapitator analog saturation modeler from the Soundtoys brand for this mission. This plugin is a good choice for adding character to all kinds of instruments in your mixes.
Add analog saturation to your digital studio to be able to beef up your mixes and unlock new dimensions of plain sounds. Before building this saturation emulator, Soundtoys tracked the dynamics of vintage gear to deliver precise effect reproduction.
Whether you want to add a subtle or extreme distortion to your mix, the Decapitator will ensure you get the saturation range that will smoothly suit your needs. To achieve this, there are five different saturation modes that will give the edge to bass, spice up your guitars and vocals, or give more expression to drums. In case you want to add pure brutality, just hit the Punish button and see how your mix gets new shades.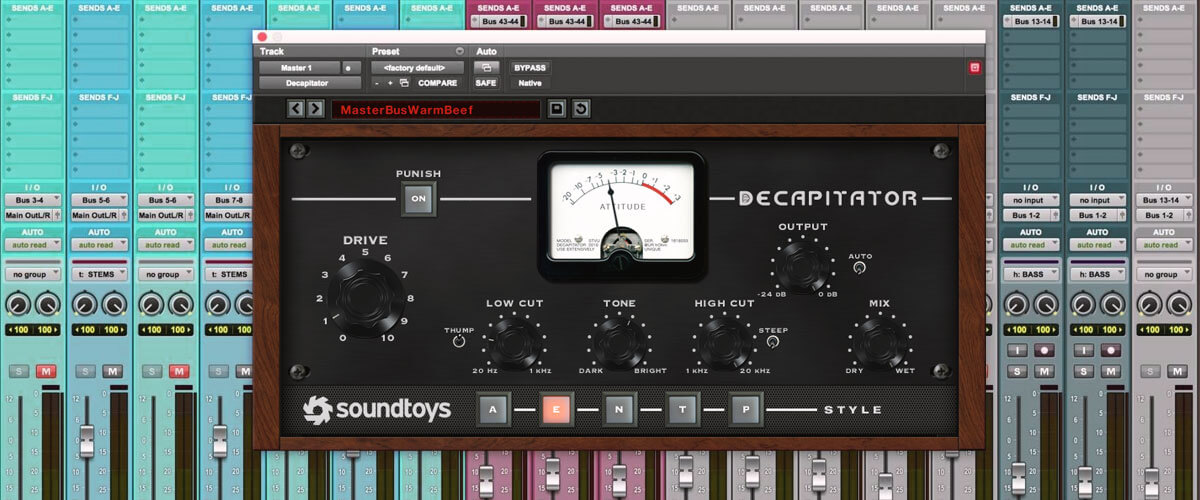 With the modeled tone control, you can shape the saturated sound to ensure it gets the desired dimension. Use a mix control feature to incorporate dry signal for parallel processing without routing and sub-mixes.
A Soundtoys Decapitator plugin is flexible and user-friendly. However, it is not compatible with 32-bit systems, so you can't use it on older computers.
Regarding sound quality, I want to admit that this plugin can give hot competition to an analog hardware piece. It's great for warming up bass, enriching melodic components, and giving cohesion and shine to a mix. From subtle saturation to punishing deliverance, this plugin enables it all.
With five different sound profiles that give amazingly different results and an option to configure saturation level, the Soundtoys Decapitator plugin is the only one you will need to spark up your mixes. Because of this and the high sound effect quality, I regard this software component as the best saturator plugin.
Key specs
Type: analog.
Platform: Mac, Windows.
Formats: AAX, VST, AU.
System requirements – Mac: macOS 10.10 or later, 64-bit only.
System requirements – Windows: Microsoft Windows 7 or later, 64-bit only.
Waves J37 Tape – budget pick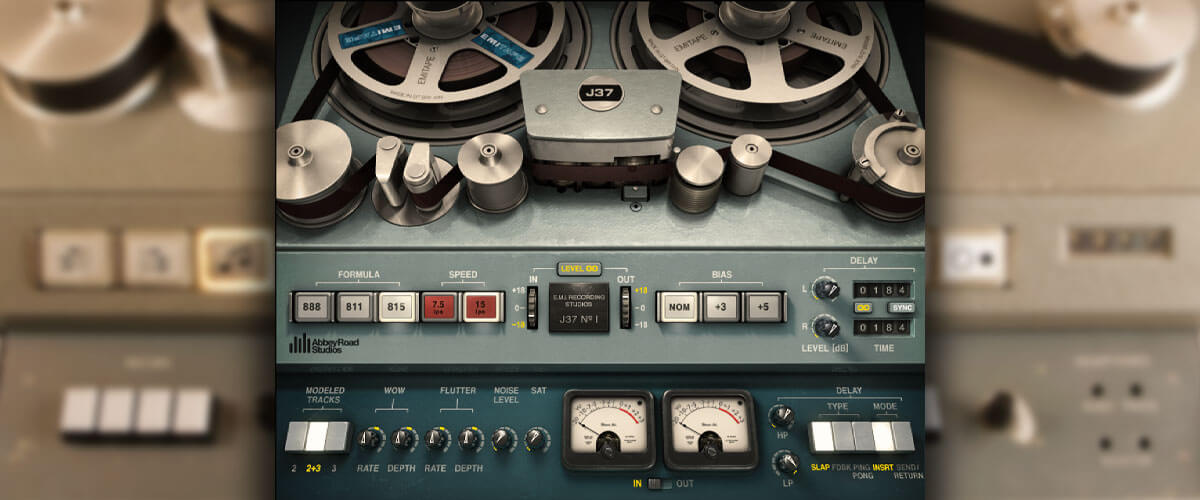 Meet Waves J37 Tape, a tape saturation emulator with a solid vintage character and good delay effect implementation. It was created in cooperation with Abbey Road Studios as a prototype of physical machines used to create the most fabulous samples of modern music.
This saturation VST has a variety of adjustable controls like Tape Speed, Bias, Noise, Saturation, Wow and Flutter, and Waves to recreate the original machine's sonic character and give you the effects for fascinating and ear-pleasing mixes.
The J37 by Waves has three tape formulas, but the difference between them is very subtle. In fact, this makes this plugin an effective instrument for tone connoisseurs rather than rookies looking for simple sounds.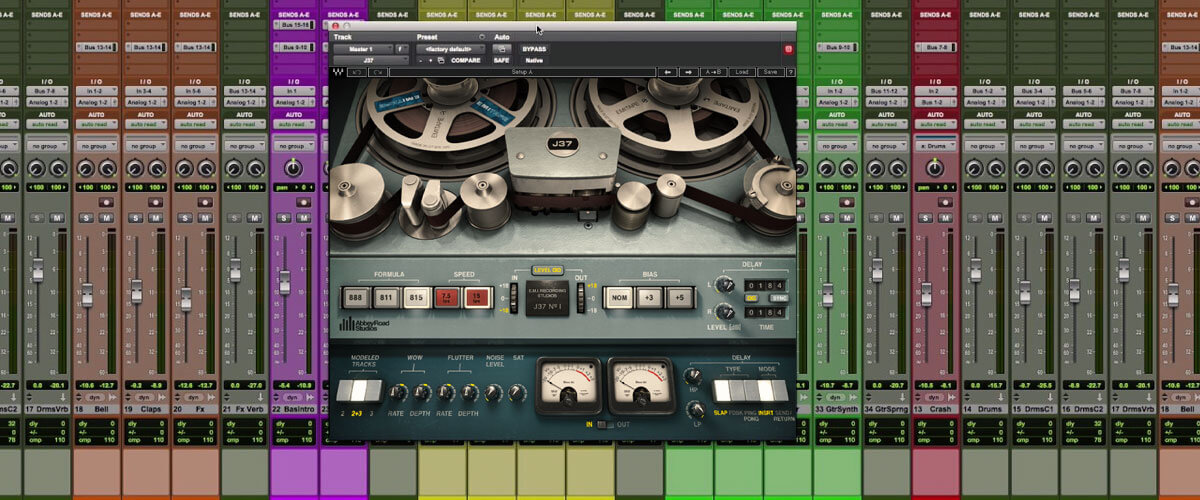 The delay section is one of the most valuable parts of J37. It offers a wide palette of sonic expressions, from gentle saturation to wild delay effects. This allows you to create a variety of mixes.
Waves J37 Tape has a nice tone, regardless of what tape formula you select. It does an amazing job of reshaping the sound you put through it and making it sound firmer. However, I noticed that sometimes it could be too hard in the upper-midrange. In general, it's very sensitive, so if you push a little bit too hard, you will get an effect that will irritate your ears.
When you are looking for a budget saturation plugin that will let you emulate 60s-flavored mixes, Waves J37 Tape is the right choice for you. It will give your tracks an authentic tape hiss by neatly replicating the effect of the original machine.
Key specs
Type: tape.
Platform: Mac, Windows.
Formats: AAX, VST, VST3, AU.
System requirements – Mac: macOS 10.15.7 or later, Intel Core i7, Apple M1, 8 GB RAM, 16 GB free disk space, 32/64 bit.
System requirements – Windows: Microsoft Windows 10 or later, Intel Core i5, AMD Quad Core, 8 GB RAM, 16 GB free disk space, 32/64 bit.
FabFilter Saturn 2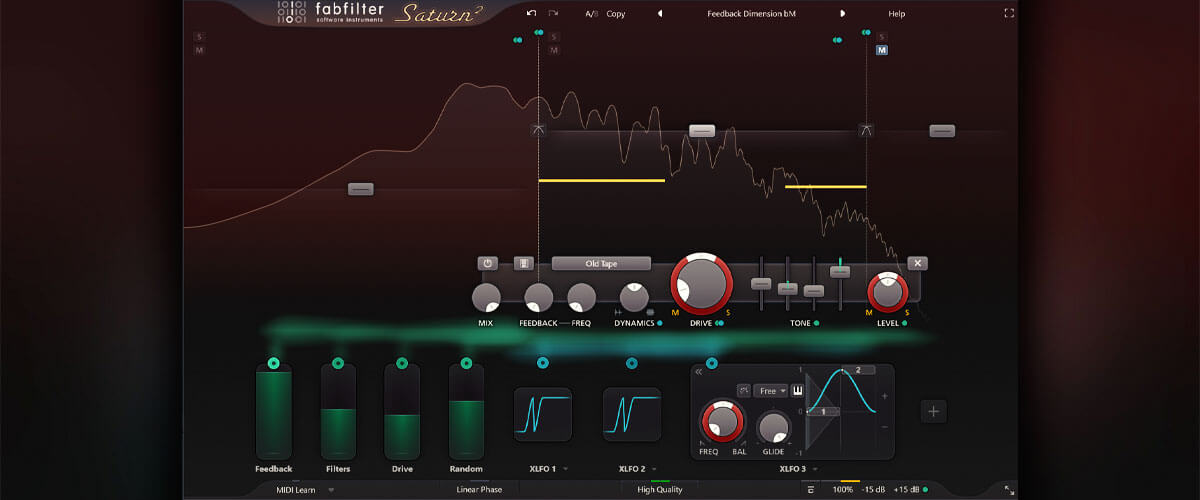 Add distortion, saturation, and movement to your tracks with the FabFilter Saturn 2 plugin. This upgraded version of Saturn hosts new features like an optimized interface with modular visualization, new subtle saturation, and tools for mastering different distortion styles.
This plugin carries up to 28 different distortion effects inspired by vintage sounds of tubes, transformers, tapes, and more to equip you with a wide range of effects. In addition, it hosts everything you may need to create jaw-dropping mixes, from gentle tube saturation to bit crushing and heavy guitar amps. So, FabFilter Saturn 2 can become your all-in-one emulator for producing new tracks. Moreover, the five FX distortion styles allow you to manage your sound differently so it can sound unexpected or classic.
You can create complex and inspiring layers thanks to multiband processing (up to 6 bands). By the way, there is a set of curated presets that include Drive, Color, and Lo-Fi to let you play with plenty of onboard effects that will brighten your samples. They are combined in categories, streamlining navigation and enhancing the already intuitive and uncluttered interface.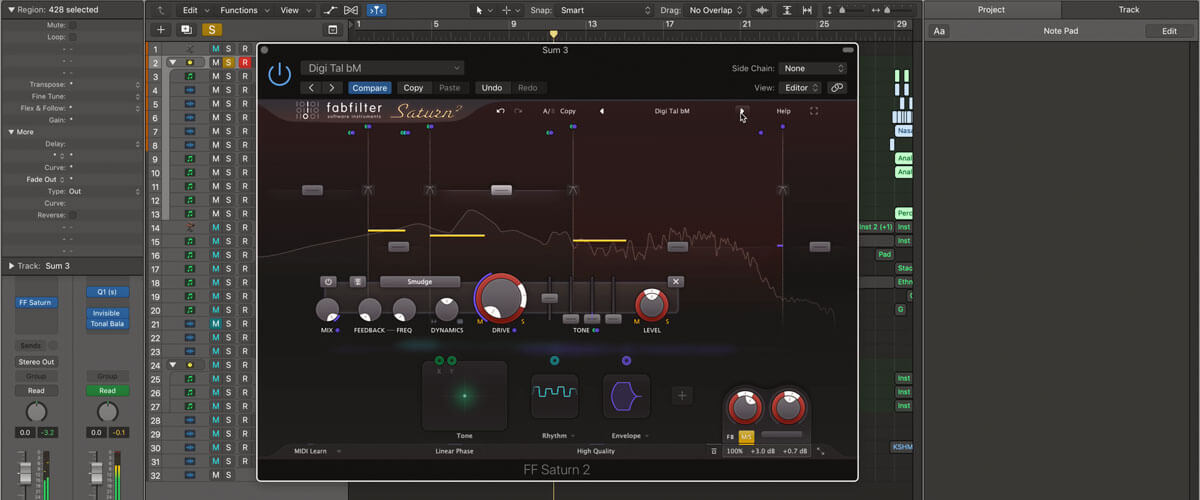 You can expect smooth parameter transitions with adjustable knobs, MIDI sources, and Smart Parameter Interpolation. Besides, keeping track of what is going on while you mix is easy due to the traditional frequency analyzer with low frequencies on the left and higher frequencies on the right.
The saturation in FabFilter Saturn 2 is great. The plugin has four tube settings that allow you to add new shades to your musical creations. Using them separately will give you just a perfect amount of enhancement. However, the Broken extreme setting will enable you to achieve a full-on metal-style distortion. After all, as there are controllers, you can always choose how extreme or warm you want saturation to be.
Generally, FabFilter Saturn 2 is much more than just a saturation plugin. It allows you to emulate a wide range of effects for bright and juicy mixes. You will have all you need to nudge your creativity with elaborate controls and several saturation settings.
Key specs
Type: tube, tape.
Platform: Mac, Windows.
Formats: AAX, VST, VST3, AU.
System requirements – Mac: macOS 10.12 or later, Apple Silicon or Intel processor. 64-bit only.
System requirements – Windows: Microsoft Windows 7 or later, 32/64 bit.
Sonnox Oxford Inflator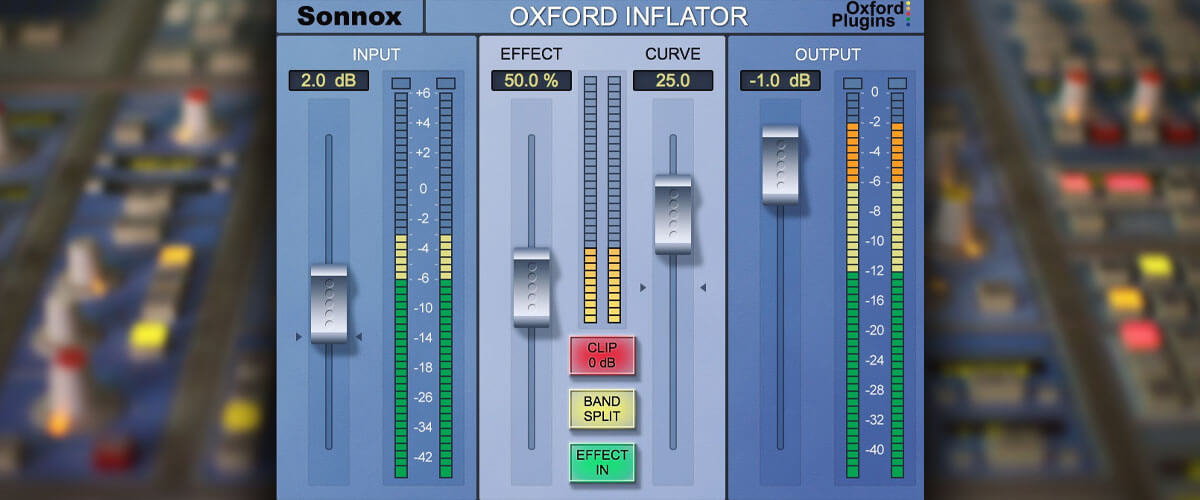 The Sonnox Oxford Inflator plugin has been here for around two decades. Yet, it remains a go-to solution for many music producers. It increases perceived loudness without sacrificing sonic quality or dynamic range. With this plugin, you will add presence and power to your mixes as well as the character of analog systems our ears know and love.
This plugin does multiple things, bringing great value to music makers. With Sonnox Oxford Inflator, you can add warmth, character, and dynamic sounds to your mixes without the pumping of compression. Also, use individual channels to bring particular sounds forward and add some weight. It's also a good saturation plugin for mixing vocals so that they cut through the mix. Finally, Sonnox Oxford Inflator does a great job at increasing the harmonic density of a sound or instrument, making your tracks sound more immersive, aggressive, and punchier.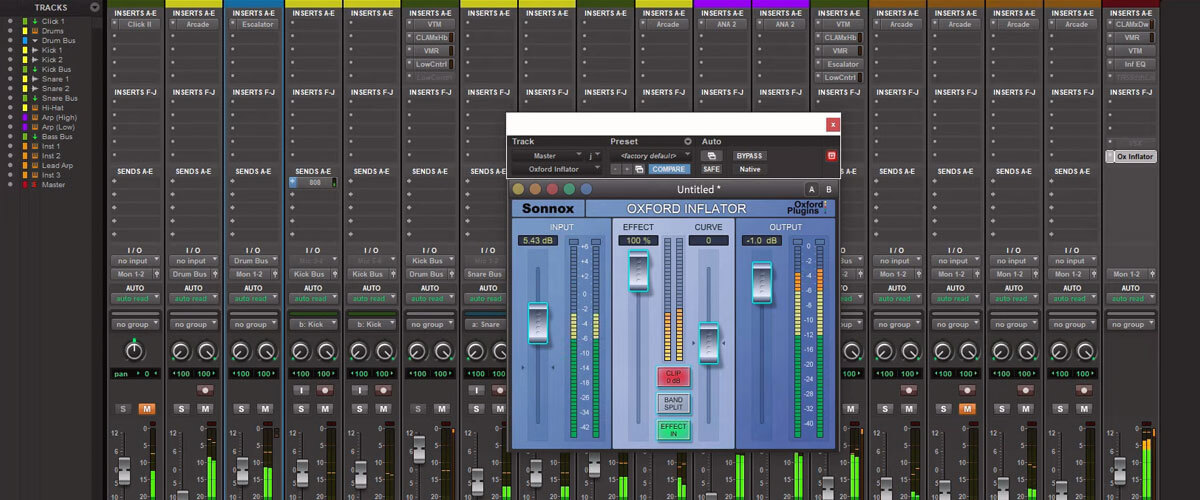 One of the key characteristics of this plugin is the availability of two flexible modes enabling you to achieve diversity in how you want the effects to sound. Choose between Band-split and Direct audio modes to get the desired sonic effect. You can add extra dynamic range to previously clipped signals. When you master all the controls and tools of this plugin, you will unlock sound effects, tube-like sounds, and saturation distortion, all of which will add presence, thickness, and warmth to your mixes.
None of the various saturation and distortion plugins delivers such smooth and refined transitions as Inflator. As a result, everything you put through Sonnox Oxford Inflator sounds better. However, do not overuse the effects to preserve the beauty of the tracks.
This is a good plugin with a primary feature of extending the loudness of the tracks. It may have limited capabilities in terms of saturation, however, you will still obtain the tool to add natural distortion to the plain sound.
Key specs
Type: tube, tape.
Platform: Mac, Windows.
Formats: AAX, VST, VST3, AU.
System requirements – Mac: macOS 10.12 or later, Apple Silicon or Intel processor. 32/64 bit.
System requirements – Windows: Microsoft Windows 7 or later, 32/64 bit.
XLN Audio RC-20 Retro Color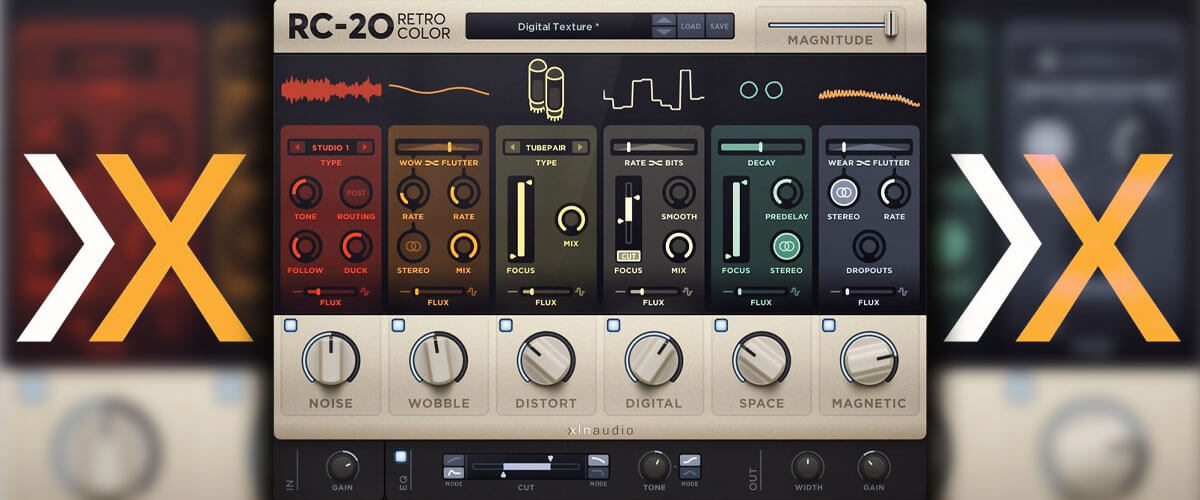 If you want to add a vintage feel to your tracks, you should consider XLN Audio RC-20 Retro Color. This retro plugin is a decent sound-design tool that will help you add the warmth, wobble, and wonder of analog recording.
RC-20 easily recreates the feeling of vintage recording equipment, allowing you to breathe in life and incorporate texture into your musical works. There are six sound modules, that work together or separately. With the Noise Generator, you can create any noise type, from subtle vinyl crackle and tape hiss to ambient studio noise. The Wobble & Flutter module delivers pitch inconsistencies, while Saturation & Distortion brings everything from mild saturation to raging fuzz. Thanks to Degrader & Bitcrusher, you will recreate the sound of old-school vintage digital gear. Add width and depth to your tracks with Reverb or reproduce the volume loss with Volume Drops.
As Saturation is the focus of this review, let's look at this module a little bit closer. This simplest module offers six saturation algorithms, enabling you to play with the sound in different ways. For example, Addictive Drums 2 and Addictive Keys let you add valves, broken speakers, or transformer distortions.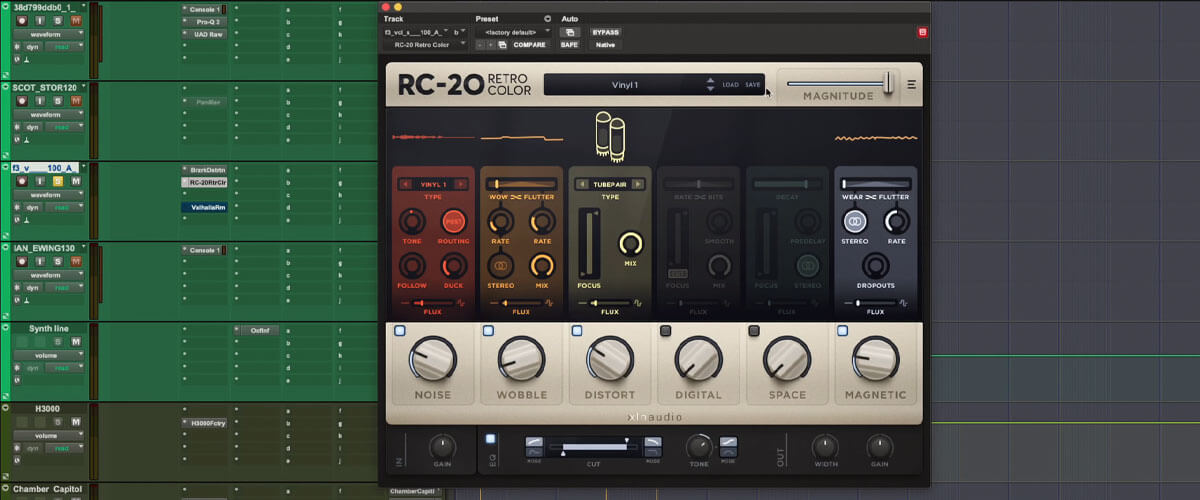 This plugin has a user-friendly controller that lets you dial the optimal effects level to get the desired sound. Moreover, with a collection of RC-20's tailor-made presets specially designed for bass, guitars, drums, keys, full mixes, or post-production, you can easily get to work and start creating your own samples.
I use the RC-20 soft tube saturation plugin on everything, including bass, violin, and guitars. It makes the sound stand out and gives it vinyl and 70's vibe. In addition, this plugin gives the tracks a subtle texture, filtering, pitch warp, and character.
To sum it up, XLN Audio RC-20 Retro Color is a versatile plugin that will give you much more than the capability to add saturation to your tracks. It is essential for everything from brightening, dulling, and roughing up instrumental sources to turning the mixes into vintage tracks.
Key specs
Type: tape.
Platform: Mac, Windows.
Formats: AAX, VST, AU.
System requirements – Mac: macOS 10.10 or later, 64-bit only.
System requirements – Windows: Microsoft Windows 7 or later, 64-bit only.
Best free saturation plugin reviews
Klanghelm IVGI – best free saturation plugin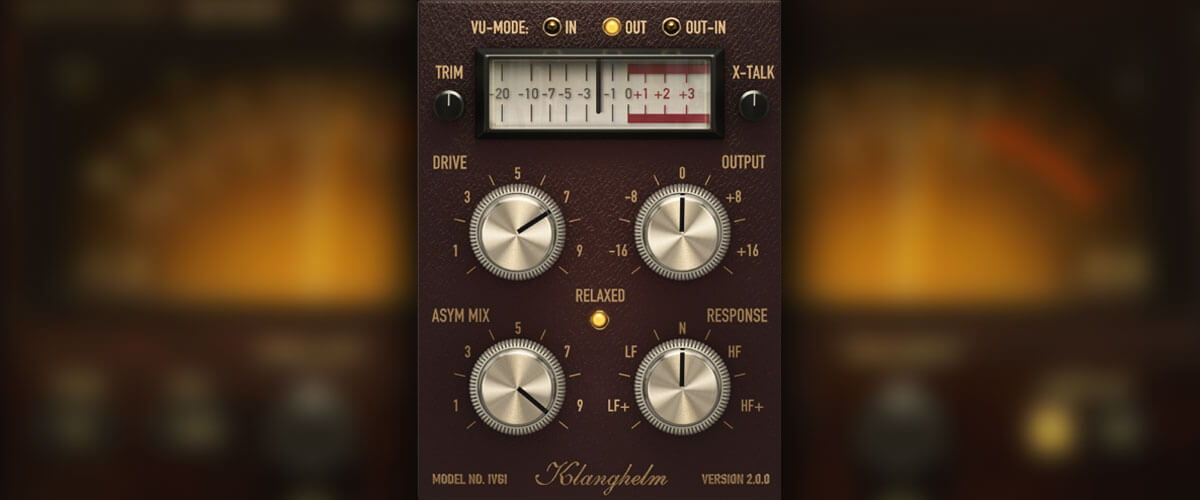 With a free Klanghelm IVGI plugin, you can spice up tracks with a wide range of saturation effects. Even though it is a light version of the SDRR saturation plugin, it can still deliver smooth and warm saturation along with dense and dirty distortion that breaks through the noise of other instruments. It makes it the best free saturation plugin out there.
The IVGI plugin features a simplified control scheme compared to the paid version, but the analog saturation algorithms are as good as in SDRR. However, it is more like a soft saturation device, which will work both on individual channels and in the stereo bus.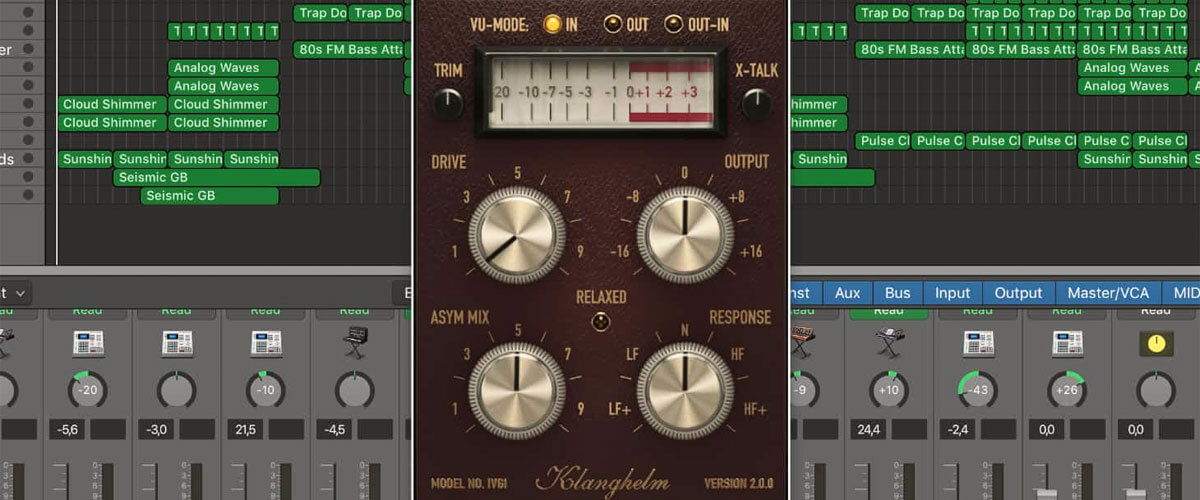 There are four knobs you can use to configure the character and transparency of saturation you apply to the sound. For example, you can use the Drive knob to adjust the amount of saturation. The Asym Mix control lets you fine-tune the symmetry without disrupting harmonic distortion. Finally, with the X-Talk control, you will simulate crosstalk on a stereo signal.
Klanghelm IVGI reacts dynamically to the input signals, so you can easily configure saturation to make it sound amazing in your mix. I will say that saturation is gentle and warm, but when you want to go fancy, you can set extreme settings and extract the desired sound effect.
Key specs
Type: tube, tape.
Platform: Mac, Windows.
Formats: AAX, VST, VST3, AU.
System requirements – Mac: macOS 10.10 or later, 32/64 bit.
System requirements – Windows: Microsoft Windows 7 or later, 32/64 bit.
Softube Saturation Knob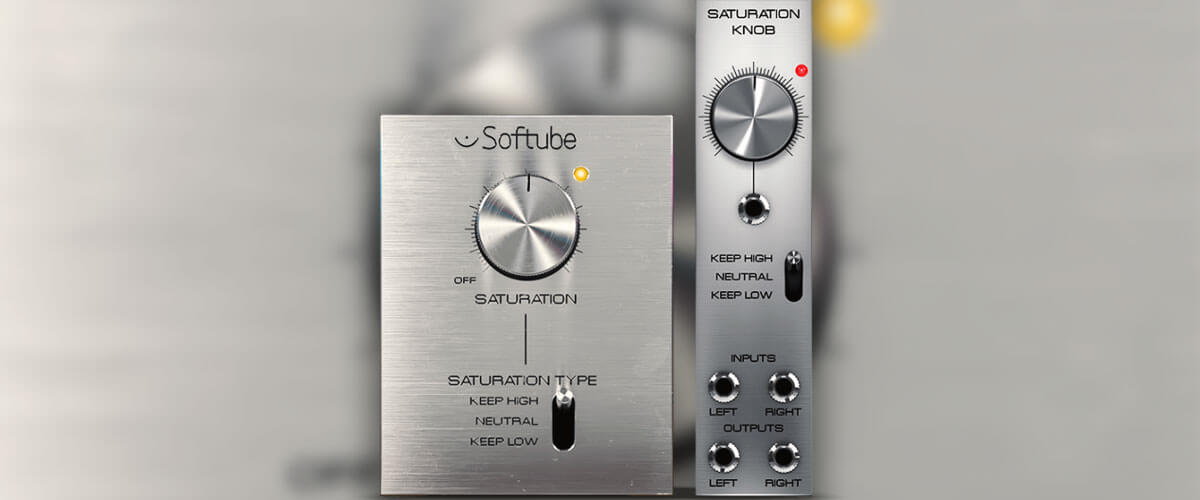 Saturation Knob by Softube has been on the market for a while, so this plugin is proven by time and thousands of music engineers. In addition, this software component is easy to use, it sounds impressive, and, most importantly, it's free.
This plugin is one of the simplest saturation plugins you will ever find. It has a single main saturation dial, which you can turn left or right to play with this sound effect. In addition, you can add a little dimension to the sound by extracting a warm and smooth distortion or go for the full-on saturation for a more accentuated character.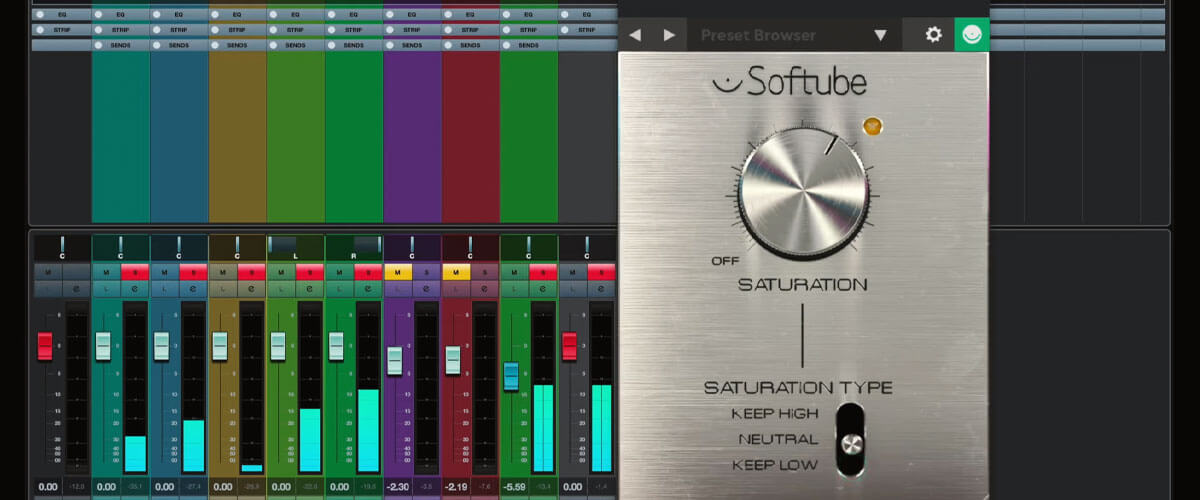 Saturation Knob has three switchable modes, which allow you to select the source material and the desired effect. By setting Keep Low, you concentrate distortion on the mids and highs without interference with the lows. In a Neutral setting, you engage the whole frequency spectrum. Finally, in the Keep High position, you keep the high-end relatively clean while focusing saturation on the lows and mids.
It works great and sounds amazing, no matter the saturation range. This plugin can smash a drum loop or add harmonics to vocals or other instruments. So, by offering to select the saturation spectrum from subtle to extreme, you can make your mix sound more definite and crisp.
Key specs
Type: tube, tape.
Platform: Mac, Windows.
Formats: AAX, VST, VST3, AU.
System requirements – Mac: macOS 10.10 or later, 64-bit only.
System requirements – Windows: Microsoft Windows 7 or later, 64-bit only.
FAQ
How is saturation used during mixing?
Saturation is used during mixing to increase the loudness of a track without significantly affecting the audio quality. This is done by adding harmonic distortion to the track, which makes it sound louder and fuller.
How audio saturation can improve your mix?
Saturation can add thickness and body to drums and bass, making them sound more powerful. It can also add warmth and presence to vocals and guitars. Audio saturation can improve your mix by adding warmth, dimension, and clarity when used correctly.
We are supported by our audience. When you purchase through links on our site, we may earn an affiliate commission at no extra cost to you.
Our newsletter
* We will never send you spam or share your email with third parties