Creating music has become a very simple process compared to previous years. Instead of buying real, physical replicas of an instrument, you can buy it on the internet and install it on your PC or other devices. However, the market is full of different software trying to help you with great sound quality, yet it can be rather difficult to determine which of them are the best delay plugins for your needs. Delay plugins are a must-have if you want to get a deep sound with additional dimensions. With the help of such plugins, you can adjust your music to the point where you get sounding like in the 50s or 60s. Add some sonic webs, arpeggiated pulses, or set delays to self-oscillate and get wild and pitchy fluctuations. Such software is capable of many things, and we will tell you more about it in this paper.
Our pick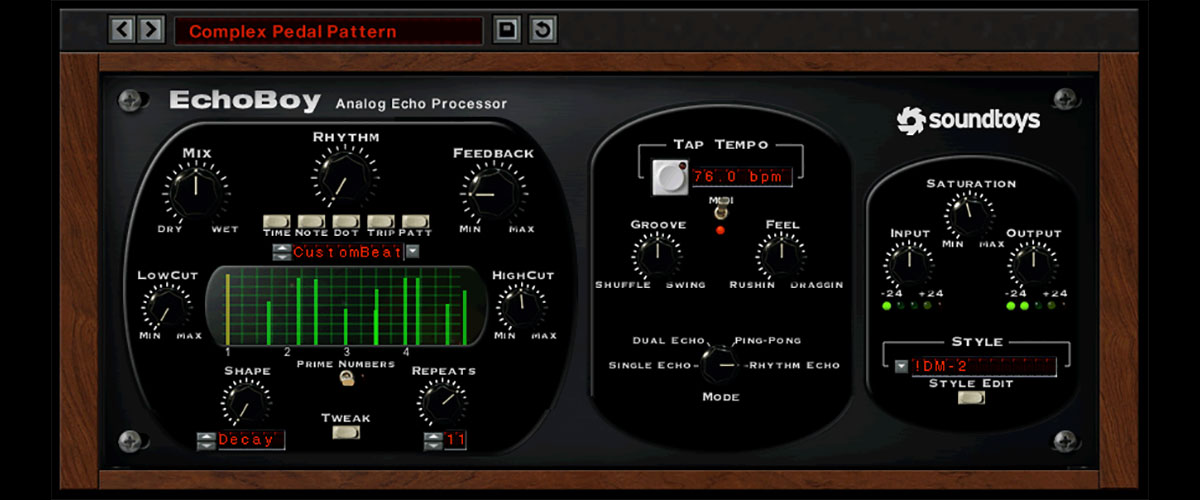 Soundtoys EchoBoy
Best delay plugin
At Soundtoys we are more than a little obsessed with delay effects, and EchoBoy is the ultimate realization of that obsession.
Delay types
Tape delay
VST delay plugins can be of different types. In this paper, we will review 3 of them, namely tape, analog, and digital delay plugins. Tape Delay type is created after 20th-century hardware predecessors. At that time, such units were capturing dry signals into the tape, and in some time, it was played back. Such a process had a chance to add certain warm and smooth sounds to the audio track. However, as time moved on, such hardware units became harder to maintain and use, so they simply digitalized this retro musical instrument. Now, every musician who wants to get a vintage sound added to the audio track can download it onto the computer. Digitalization made it far easier to apply such delay types to the signals of your music.
Analog delay
The next type of delay plugin is the analog one. After tape delays started becoming less profitable to use, maintain, and produce, some smart people created analog delays around 1970. This dictated how things worked for the near future for all best delay VST. Everybody followed this new trend since it made it easier to get sound effects for delay units. So, now we also have a digitalized version of the second delay unit generation. Apart from the vintage sound of tape delays, analog delay plugins provide an additional spectrum of sounds that influenced classic rock. Such evolution allowed the next generation of musicians to bring music to the next level of existence. As a result, now we can use the result of their work to continue their job.
Digital delay
And finally, the latest version of the delay units is digital. They were invented in the 1980s, bringing a new view to the music industry. Computers helped us enter the next age of possibilities, including music production. Now music hardware manufacturers could use the latest technologies to improve old hardware or create something from scratch. As a result, algorithm-based delays made everything even easier and allowed the implementation of innovative possibilities and variables, like the timbre options.
All these 3 types were then digitized to meet the requirements of the modern world. Now, we can use plugins of any type from within our computers to adjust our signals and change audio tracks with delay plugins of different eras.
Best delay plugin reviews
Soundtoys EchoBoy – best overall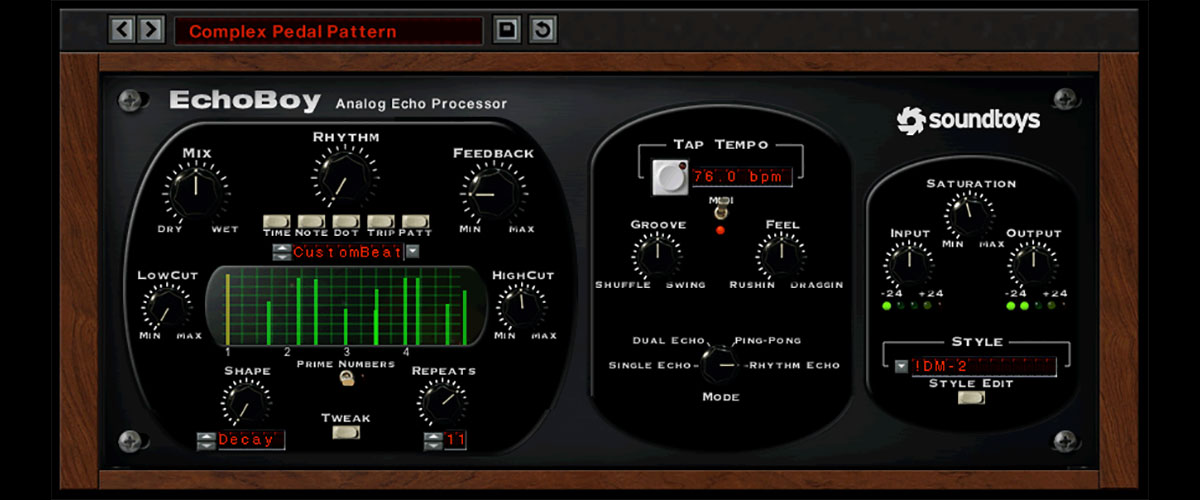 Let's start our journey with the Soundtoys EchoBoy plugin. Its features allow users to achieve high-quality delay. True groove technology, swing/accent effects, echo settings, and many more are hidden within one small plugin. Some of these features need a bit of explanation which is what we are up to next…
This delay plugin has a rich library of echo and delay sounds ranging from retro for the old-fashioned types to modernity for those keeping up with the latest trends. Alter your sound with shuffle, accent, and swing. Dual and Ping-Pong modes allow you to compose stereo delays with warm, rich sounds. Make use of its stereo imaging control and low-fi bit-depth control in your music creation process to get a more interesting sound. In addition, this plugin has such controls as saturation, tape flutter, and diffusion, which will help add analog sounds to audio tracks you create. On top of everything above, this software incorporates another powerful feature – Rhythm Echo mode. It allows you to design your delay effects with echo sounding with 30 styles, like Memory Man, Space Echo, Echoplex, etc. Combining delay with echo opens more possibilities to those who search for improvement and evolution.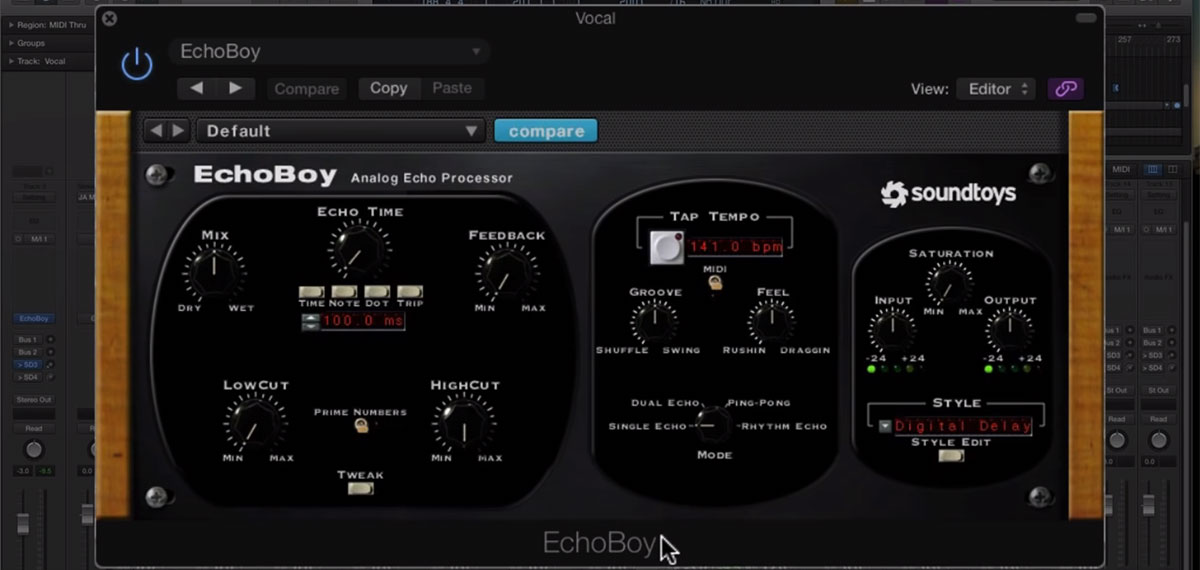 This plugin is a mine of delay gold. No wonder many refer to it as a must-have. With its extensive shaping tool, you can change the sound and space it in the way your imagination sees fit. The delay it creates is incredibly flexible and sounds great within the audio track. The echo it can add is very rich and lush. The design of this plugin corresponds with the needs of musicians, presenting you with a comprehensive selection of parameters and controls that allow making even the slightest changes. The style section is customizable and has in its stash a collection of echo units with a history of around 60 years. A huge library of old, vintage sounds mixed with modern music experience is what makes this plugin useful.
This is the best delay plugin for all musicians and music producers with its extensive list of parameters and variables.
Key specs
Type: tape, analog, digital.
Platform: Mac, Windows.
Formats: AAX, VST 2, AU.
System requirements – Mac: macOS 10.10 or later, 64-bit only.
System requirements – Windows: Microsoft Windows 7 or later, 64-bit only.
D16 Group Repeater – also a great choice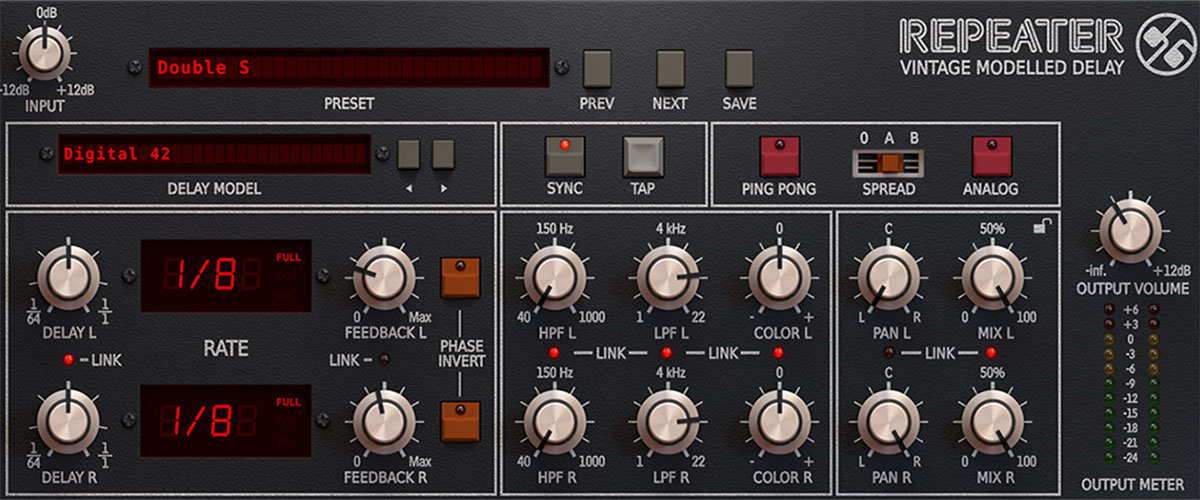 The D16 Group Repeater delay plugin is a great choice for both professional and inexperienced musicians. It has a vast collection of 23 delay models, like Cassette Tape, Digital Delay, New Radio, etc. In addition, it comes with 2 divided delay lines for each channel, a tap function for non-synchronized delay time, a 2-stage Stereo spread, and many more features that allow adjusting delay sound effects.
The most outstanding feature is a collection of delay models, namely 23 of them. Among them, you can find Digital 42, DM-2, Mellow Delay, Old & New Radio, Plexy Echo, Space Delay, a whole number of Tape Delay, and many more. To create even deeper-sounding music, use the 2-staged stereo spread feature. This can also be created in Ping-pong mode. In a delay plugin for vocals, users can also create sounds that correspond to the ones uttered by vintage hardware units using analog-style feedback. Another add-on is the presence of 2 separate delay lines with independent settings that create mesmerizing echo effects. Also, you can sync this plugin with your DAW or use the tap to set tempo manually. As a final touch, this plugin has a built-in browser, where you can easily navigate by using tags.
Once I tested this plugin, I was amazed to the very core. Such authentic recreation of iconic, vintage sounds in electronic music with such high quality is truly remarkable. All my audio tracks and even separate sounds obtain so much additional space, depth, excitement, and action. Its huge collection of delay models poses a gold mine of possibilities and space for creating unique music. This creative modeling delay plugin with a rich library of vintage and modern sound-making tools is a must-have if you want to express yourself in music.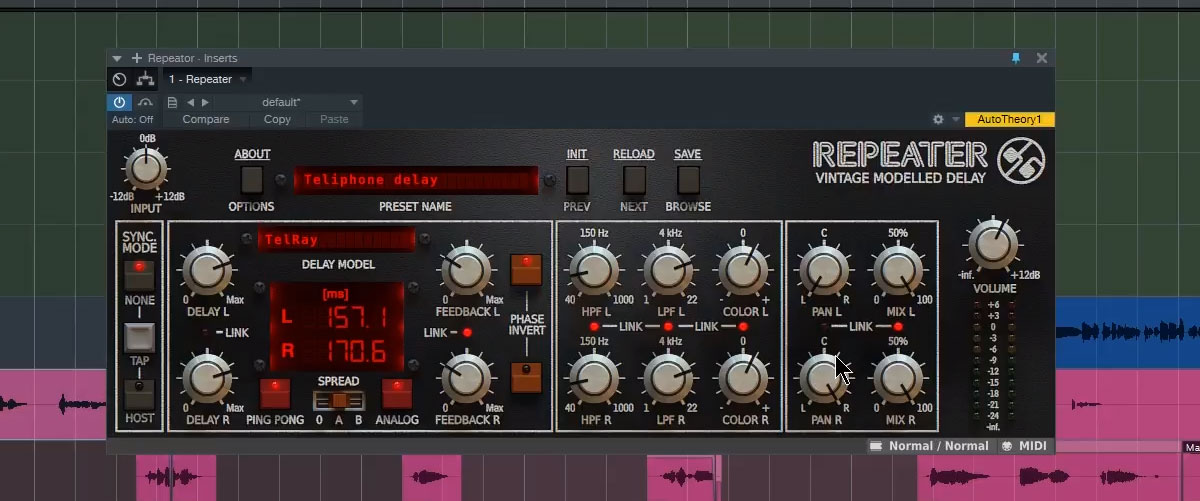 A huge collection of delay models will help you open your true potential as a musician. Various knobs, settings, and controls open a vast ocean of possibilities. And even if you are new to delay plugins, it won't be hard to learn everything from scratch.
D16 Group Repeater plugin is another great choice if you are looking for a good delay unit in all aspects with a nice price-quality ratio.
Key specs
Type: tape, analog, digital.
Platform: Mac, Windows.
Formats: AAX, VST 2, VST 3, AU.
System requirements – Mac: macOS 10.10 or later, 2.0 GHz (2.4 GHz recommended); Apple Silicon CPU, 8 GB (16 GB recommended) RAM, 32/64 bit.
System requirements – Windows: Microsoft Windows 7 or later, 2.0 GHz (multicore 2.4 GHz recommended) CPU, 8 GB (16 GB recommended) RAM, 32/64 bit.
Waves H-Delay – budget solution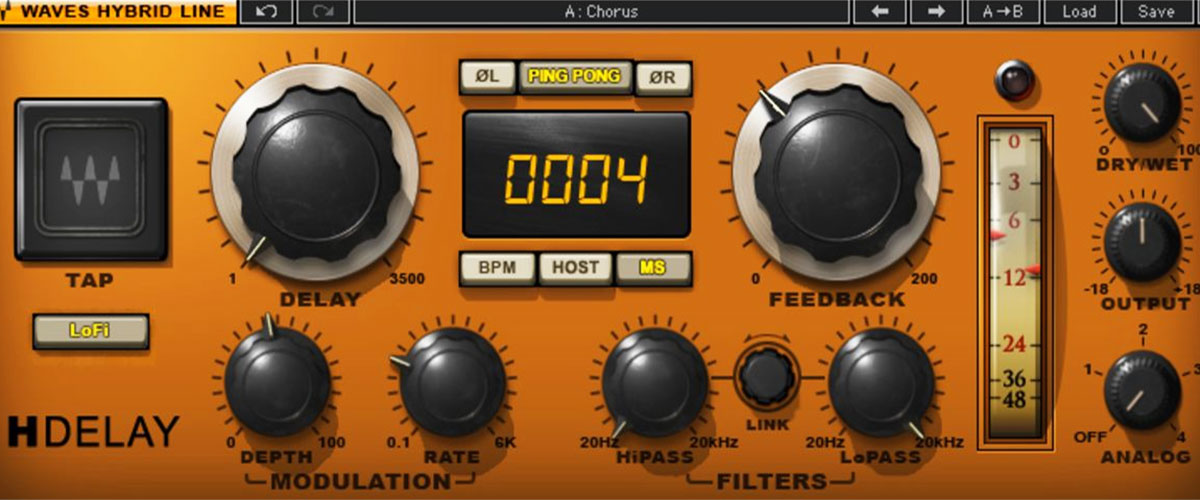 Next, we have the Waves H-Delay plugin with an extensive set of tools that allow users to get sounds starting from common slapbacks and continuing with complex echo effects. Use its features, like LoFi modes, Tap Pad, a library of delay effects, an analog interface, 2 filters, and more, to create unique music straight from your heart.
Among its attributes, you will find a vast collection of delay effects, ranging from phasing, flanging, slap-back echo, good old ping-pong, etc. Its interface, made after analog hardware delay units, is easy to navigate and comfortable to use. Main filters, HiPass and LoPass, will help shape the sound to your liking. To set a delay time for your goals, use Tap Pad. Moreover, this plugin also supports MIDI, together with tempo-synch, to save all your settings. Within this software, you can set the delay time up to 3500 ms and the pitch delay time behavior. On top of that, the pitch modulation here is controlled by LFO. You will also get 2 modes, analog character and LoFi, which help create high-quality, rich, deep sounds. A hard-to-find feature is the infinite feedback support that you will get with this piece of music technology.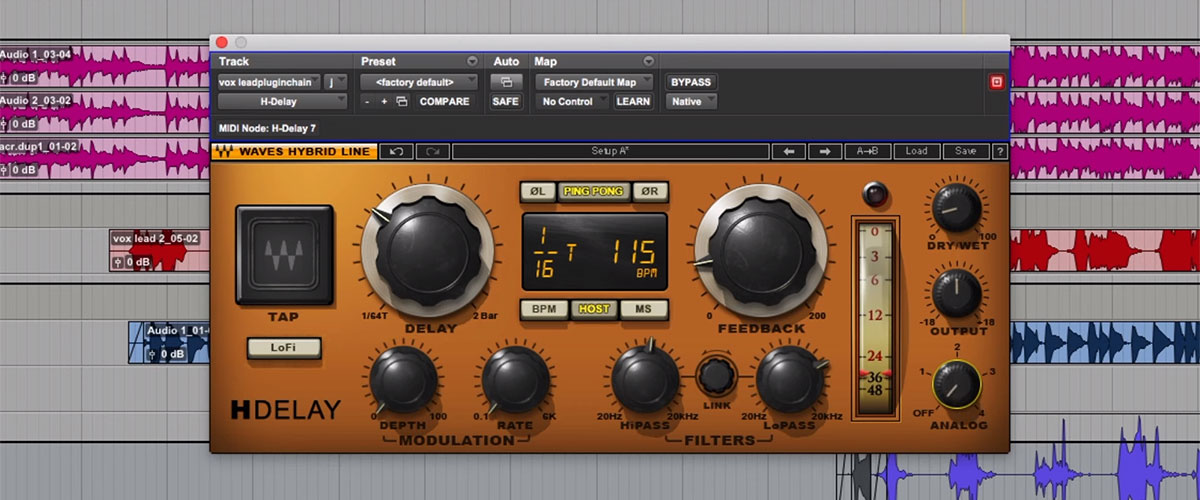 This plugin is really something else. The UX, the quality of sound, the freedom of customization, and the settings are impressive. Delay effects are good on bass synths or guitars but especially great on singing vocals. The way the sound spreads is astonishing. Once I started using this plugin, my audio tracks became more and more professional every day. The sound itself became deeper and livelier. With its flexible toolset, I can now not only create much more high-quality music but also expand my possibilities and improve my skills as a musician.
The H-Delay plugin is something every music producer should get. And even if you create music for fun, it will be of great help to you. A vintage interface with the power of the future for a small price is what makes Waves H-Delay so special among all other plugins.
Key specs
Type: hybrid, analog.
Platform: Mac, Windows.
Formats: AAX, VST, VST 3, AU.
System requirements – Mac: macOS 10.14.6 or later, (Intel Core i5 / i7 / i9 / Xeon / Apple Silicon) CPU, 8 GB (16 GB recommended) RAM, 16 GB free disk space, 32/64 bit.
System requirements – Windows: Microsoft Windows 7 or later, (Intel Core i5 / i7 / i9 / Xeon (all Gen 5 and above) / AMD Quad Core CPU, 8 GB (16 GB recommended) RAM, 16 GB free disk space, 32/64 bit.
Soundtoys Crystallizer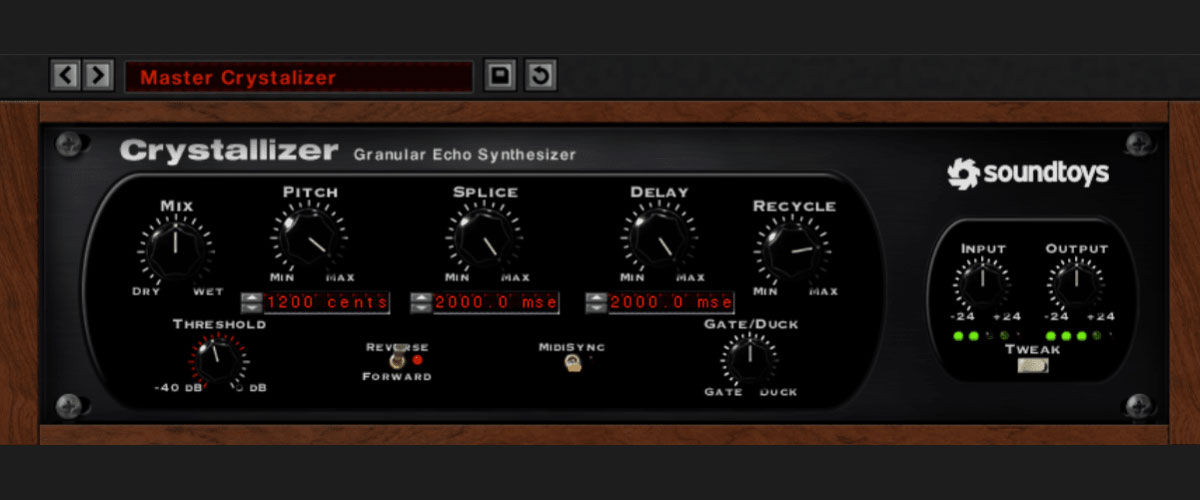 Soundtoys Crystallizer is our next subject of this grand review. Compared to other plugins on our list so far, this one has fewer features and yet is full of surprises. Use its Gate and Duck options to control the echo, delay, and pitch-shifting effects and maximum delay time potential to enrich your music with depth, space, and iconic sounds.
This multifunctional tool for sound designers has an interesting collection of settings to make full use of it. Here you will find a recreation of a vintage Eventide H3000 unit. This plugin can reshape and remake guitar, bass, drums, and other sounds into something bigger and better. Reverse echoes, delay, and pitch shifting features will help you to add rich, deep effects to your music. To adjust the echoes, you have Gate and Duck controls. The delay time here has a top limit of 15 seconds, but it will be enough to make the best sounding ever. While working on each project, you can lock your tempo and even create a custom one. Within its settings, you will find even more interesting features that may be less impressive alone but combined with the aforementioned ones will demonstrate what modern music creation software is capable of.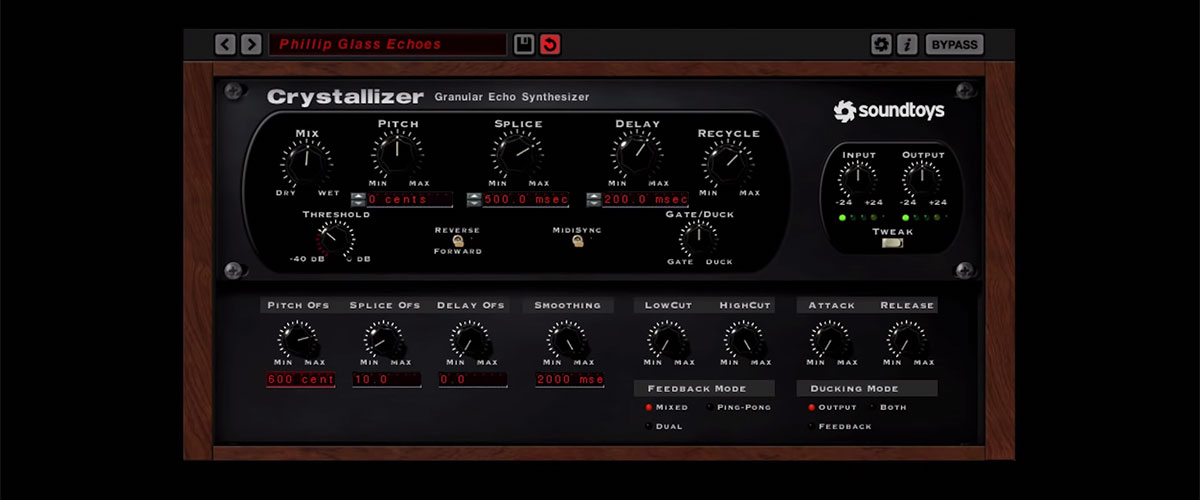 This plugin turned out to be perfect for completely transforming any audio clip into something else. I can take any simple melody or chord and shape it into shimmering, textured soundscapes. Then, I can add some delay effects and use settings and controls proposed by the plugin to make some sounds feel deeper and livelier. The further process of combining everything into one audio track is as simple and fun as ever before. With the Crystallizer plugin turning any instrument into a synth, adding subsonic bubbles, and texturizing any sound source is very easy and effective.
Soundtoys Crystallizer has a comprehensive collection of controls, customizable parameters, settings, and knobs to help you make your music better. If you want complete control over every single sound and this plugin is what you need.
Key specs
Type: digital.
Platform: Mac, Windows.
Formats: AAX, VST 2, AU.
System requirements – Mac: macOS 10.10 or later, 64-bit only.
System requirements – Windows: Microsoft Windows 7 or later, 64-bit only.
u-he Colour Copy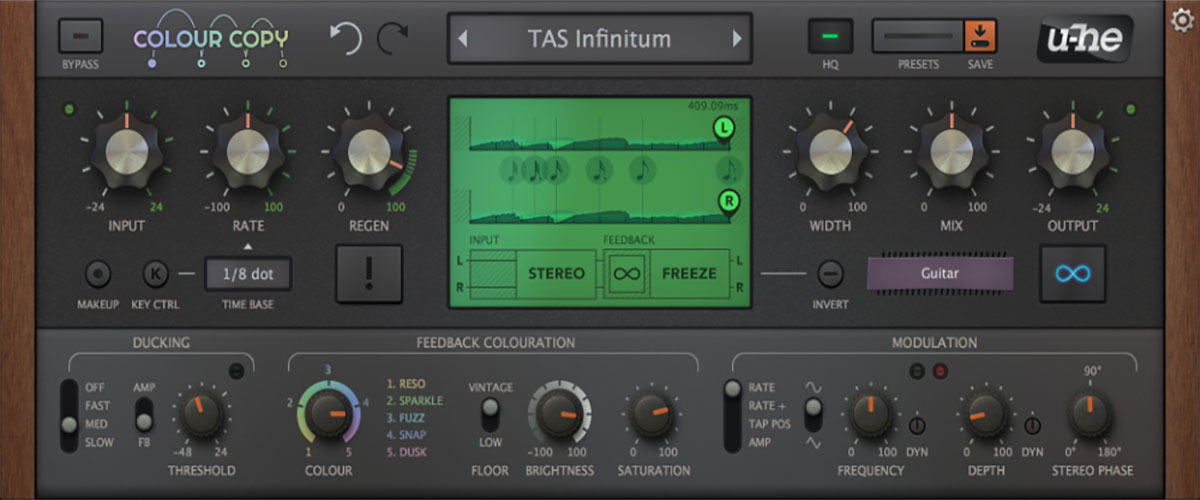 And last but not least, we will review the u-he Colour Copy paid plugin. It is a BBD-style analog delay software with a vast set of tools. Its interface size can be adjusted, input specifications allow unlimited stereo and mono combinations, and a unique ducking effect will make your sound extremely deep.
If you hate when you cannot change the size of the interface, no worries here, you can customize it within 70%-200%. The preset browser will help you find all features and presets through tags or simple text. Developers made input and feedback routing independent, so you can create infinite stereo and mono combinations. On top of that, feedback coloration settings add to delay effects more texture. The dynamic ducking effect feature gives your signals a unique sounding, especially with the initial delay saving feature. The MIDI note tracking function is responsible for the mono synth-like operation. If you like loops, here you will find an infinite loop button, which repeats the delay buffer as long as it is needed. A built-in LFO computes delay rate, tap position, and amplitude, making everything easier.
Inside this plugin, you will find a comprehensive collection of classic bucket brigade-style delays that range from the low-range rumbling, slowly evolving delays to the highly resonant, screaming characters. By using them, I created such epic music filled with drive and passion that it's hard to imagine possible. Delay effects here are presented in a wide selection, so if you like them as much as I do, you have to get such a plugin.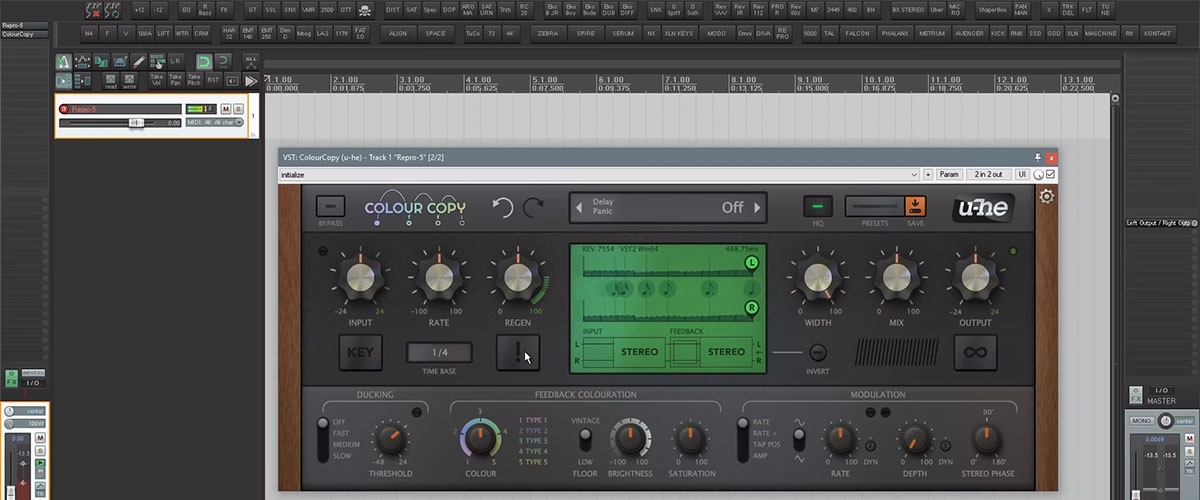 As you can see, this plugin has an impressive collection of tools and features – colors that allow adjusting delays to the tiniest bits, flexibility in terms of delay effects, built-in performance control, etc.
If you want to add some life and extra dimension to your music with ease and comfort, you should take a look at this delay plugin
Key specs
Type: digital, analog.
Platform: Mac, Windows.
Formats: AAX, VST 2, VST 3, AU 2.
System requirements – Mac: macOS 10.4 or later, 1GB or more RAM, 50 MB free disk space, 32/64 bit.
System requirements – Windows: Microsoft Windows 7 or later, 1GB or more RAM, 50 MB free disk space, 32/64-bit.
Best free delay plugins review
Valhalla Supermassive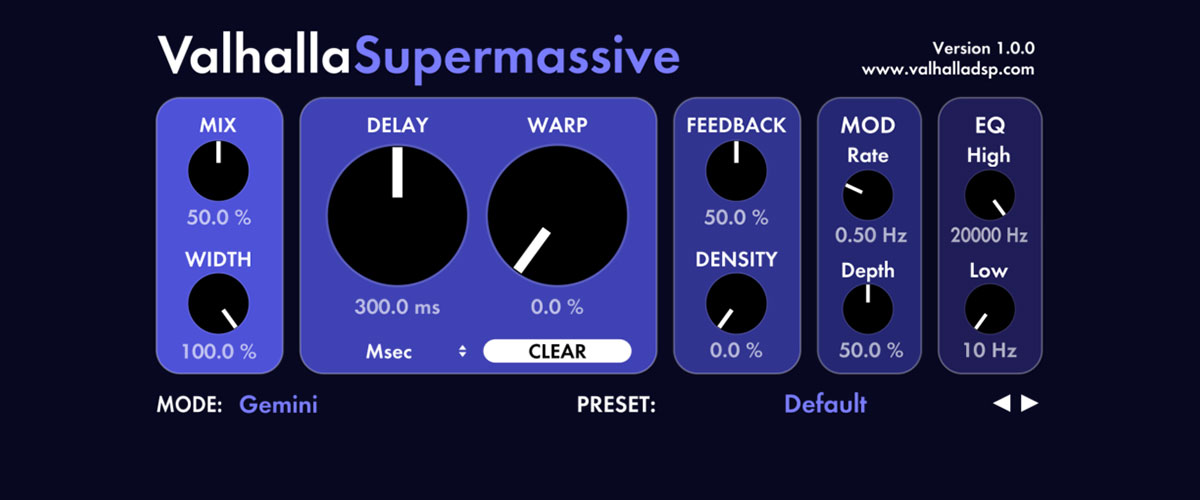 One of the reasons that Valhalla Supermassive is considered the best free delay plugin is that it is specifically designed to combine a sonic complexity with a relatively simple set of controls. Here users can utilize 14 delay modes, a library of presets, and many knobs and controls to manage every sound.
Among its features, you will see regular dry/wet mix knobs, the width control that is responsible for reverb/delay output, and delay time settings. Besides that, we see 14 unique reverb/delay modes, like Gemini, Hydra, Lyra, Capricorn, Orion, and others, which determine how the sound will go, like echo density or decay terms. On top of that, we have MOD Rate, MOD Depth, EQ High Cut, and EQ Low Cut controls that open even more space for creativity and musical imagination.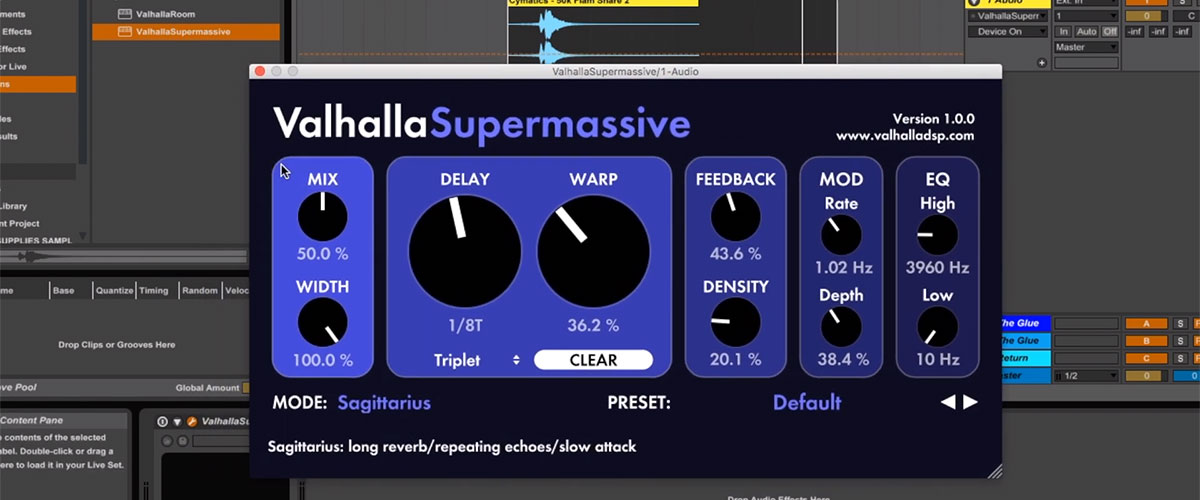 After using it for some time, I can say that this plugin sounds otherworldly. Those delays, presets, and reverb/delay modes helped to create exactly what my mind wanted. It's nice to see how technology has evolved to support us in the music industry, and this plugin is the perfect example.
Key specs
Type: digital.
Platform: Mac, Windows.
Formats: AAX, VST, VST 3, AU.
System requirements – Mac: macOS 10.8 or later, 64-bit only.
System requirements – Windows: Microsoft Windows 7 or later, 64-bit only.
TAL-Dub-2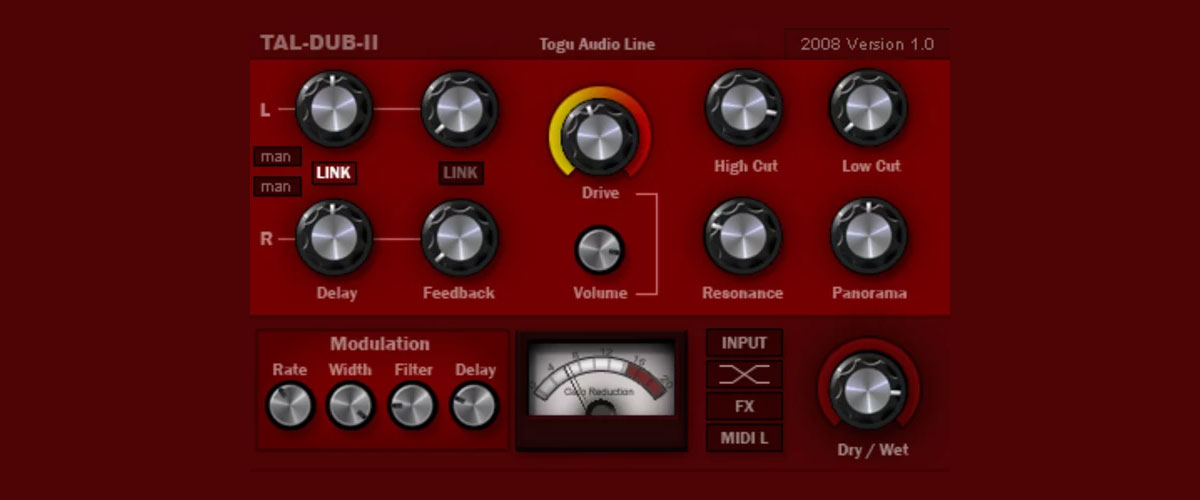 And the last delay plugin we will review today is TAL-Dub-2. It has some features that may impress you but do not forget – it is a free plugin.
We'll start with something everyone loves – stuff that comes along with the product at no extra price. Twenty presets straight from developers are downloaded here from the start, so you can use them right away for your audio tracks. Next, it has 2 filters, namely 3dB high pass and 6dB resonance low pass, that ensure your sound won't go crazy and will stay just the way you want it. The built-in VU meter displays gain reduction, and LFO works to ensure high persistence and quality of sound. Another feature is that it can go up to a 4x oversampled distortion stage.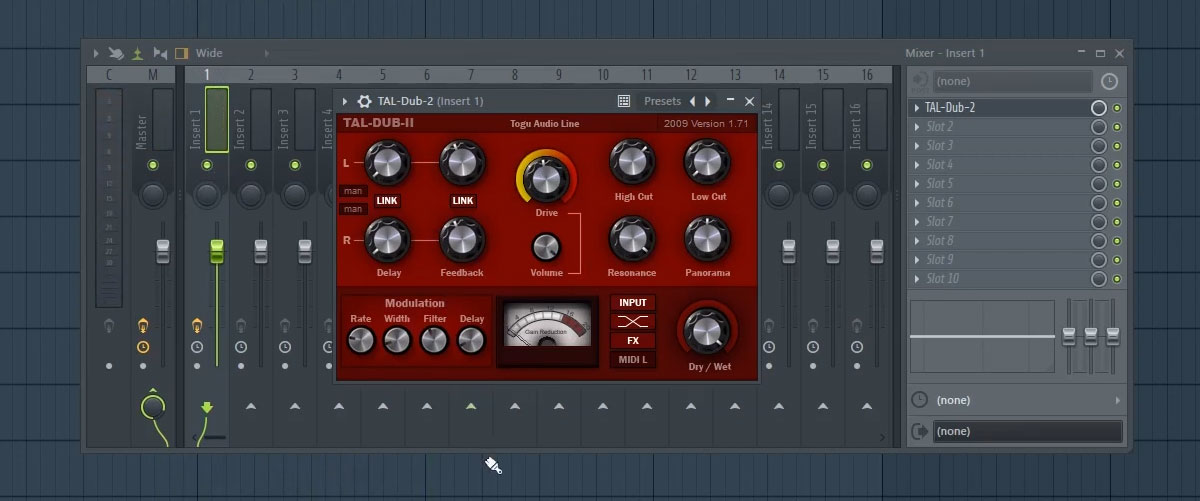 In this plugin, I created a whole bunch of audio tracks. I liked the most the ability to add vintage distortion to the delayed signal. However, clean delays are also incredibly deep and full of space. Being at a price range accessible to anyone (zero), I think it does a great job giving filters and VU meter displays to the user.
Key specs
Type: digital.
Platform: Mac, Windows.
Formats: VST, AU.
System requirements – Mac: macOS 10.6 or later, 32/64-bit.
System requirements – Windows: Microsoft Windows 7 or later, 64-bit only.
FAQ
How does delay work?
Delay
can be used
in a number of ways to shape the sound, create special effects, and alter the overall texture of a recording. When used as an audio effect, delay involves repeating a copy of an incoming signal at a later time. The signal is usually delayed by an amount that falls somewhere between 20 milliseconds and several seconds. Depending on how the delay is used, it can create a variety of effects, from simple room ambiance to complex echoes and reverberation.
How do you use the delay effect?
The
delay effect
can be used in a number of ways, depending on the desired outcome. For example, a small amount of delay can be used to add depth and spaciousness to a recording. A longer delay can be used to create an echo effect, while even longer delays can create a sense of space and distance. Delay can also be used to create special effects, such as reverse delay and ping-pong delay.
Can I use delay and reverb together?
Yes, you can use delay and reverb together to create a more complex and textured sound. However, it's important to use each effect sparingly, as too much of either can quickly muddy up a recording. When
using both effects
, it's often best to start with a small amount of each and then gradually increase the levels until you achieve the desired sound.
We are supported by our audience. When you purchase through links on our site, we may earn an affiliate commission at no extra cost to you.
Our newsletter
* We will never send you spam or share your email with third parties