When you want to add a variety of virtual instruments to music production, VST instrument plugins come at hand. For the cases when you need to enable low-frequency bass tones, you will have to consider purchasing the best bass synth plugins. These tools allow you to add pure bass sounds to your tracks, introduce a deep bassline, or deliver an extra dimension to your musical creation.
However, when it comes to selecting synth bass VST, you may figure out that it is tough to find the one that will meet your needs. Luckily, I've done the most challenging part and have already picked the most appropriate bass VST plugins I could find on the market. So, if you are ready to enhance your sound mix with professional bass, dive into this review to explore the collection.
Our pick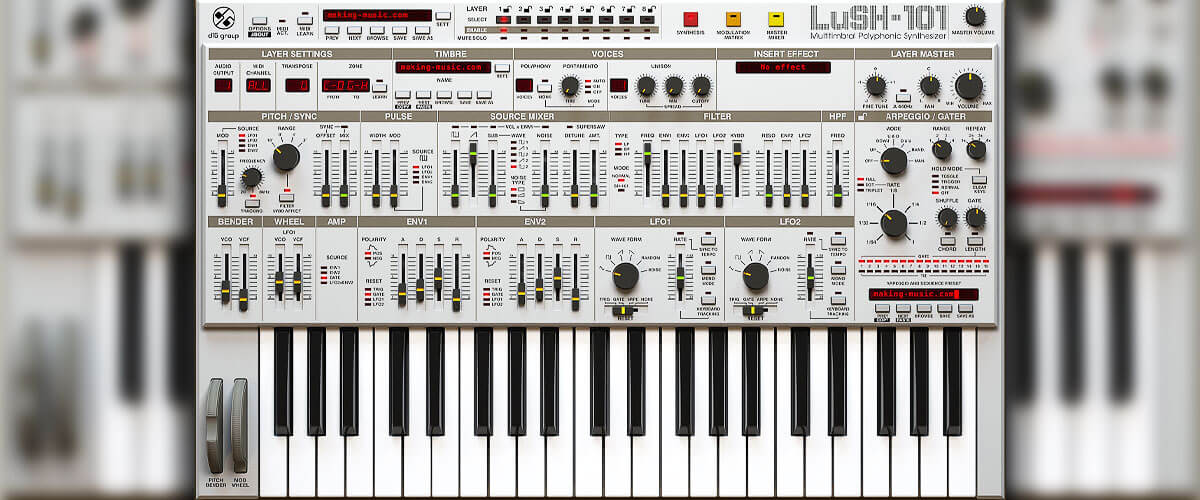 D16 Group LuSH-101
Best bass synth VST
LUSH-101's multilayer architecture gives you access to virtually limitless sound design possibilities and a wide spectrum of applications.
Read the full review.
Best bass synth VST reviews
D16 Group LuSH-101 – best overall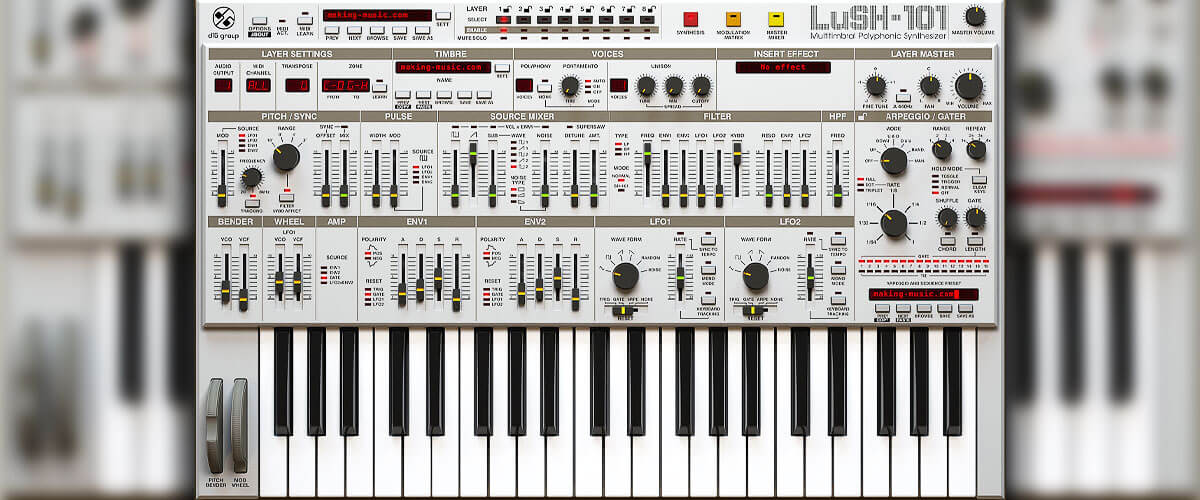 Meet D16 Group LuSH-101, a virtual synthesizer that will help you create layered sounds with all manners of bass. It unlocks access to nearly limitless sound mixing possibilities by offering an extensive palette of classic and out-of-this-world effects.
This model of the bass synth VST includes modules you can find in different synths, making it a powerful one-size-fits-all solution that will let you unleash your full creative potential. Its modular, multilayer architecture lets you layer polyphony, arpeggiator, and insert effects, all in a compact and logical package. Because of this plugin's nature, you can use D16 Group LuSH-101 in a limitless number of situations. By engaging any or all of the 8 layers to the same MIDI channel, you can create anything from subtle chorusing to the sonic manifold. Also, you can create sophisticated splits as you assign layers to various keyboard zones. In addition, a powerful built-in mixer with Parametric EQs and compressors (one per channel strip) enables you to set three effects per layer and effortlessly bring them together.
A powerful in-built aggregator with a huge bank of more than carefully arranged 1700 presets lets you easily find anything from massive basses to complex sequences. As most factory presets rely on Modulation Matrix, the sound is expressive and flavorful. Moreover, innovative oscillator algorithms (Saw, PWM, Noise) and filters with Supersaw and HardSync options are designed to sound identical to analog synth counterparts.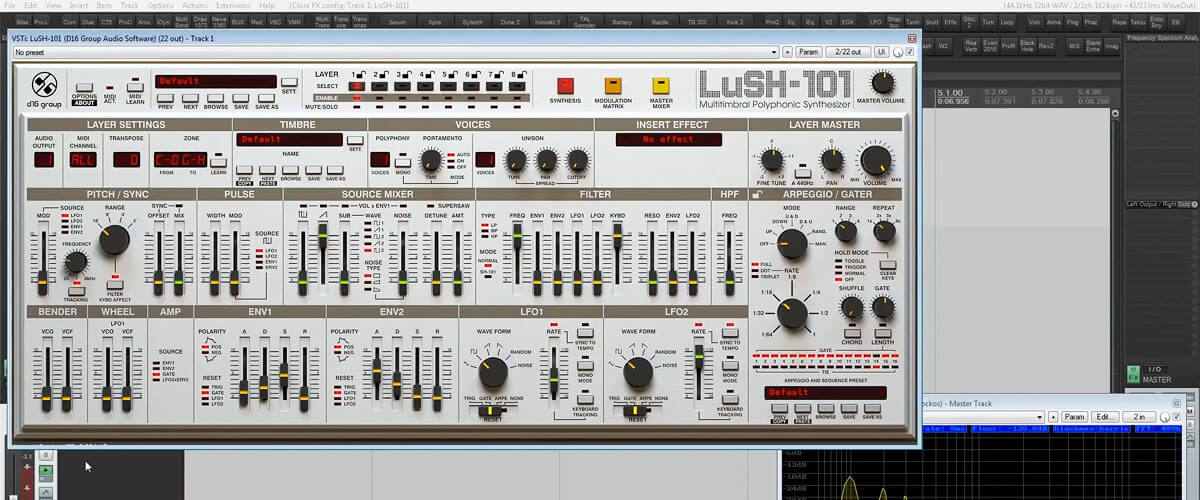 On top of that, D16 Group LuSH-101 boasts multi-core support for computers equipped with multi-core processors so you can utilize the power of modern technology for better performance. However, you may find that it uses too many computer resources, especially when creating multiple layers, or there are a lot of modulations and vocals. That is why before you purchase this plugin, it is better to check its compatibility with the operating system to ensure its smooth performance.
Talking about the sound quality, I find it pretty high. Sometimes you do not have to add many layers to get a fantastic sound. You can create some terrific and bass-rich tracks with the D16 Group LuSH-101 rich library of presets.
In general, LuSH-101 by D16 Group combines plenty of useful features in one plugin. Using this plugin, you can achieve great sound quality and create huge presets with the option of adding up to 8 layers of sound. In my list of top synths, this is the best bass synth VST you can find on the market.
Key specs
Platform: Mac, Windows.
Formats: AU, VST2.
System requirements – Mac: macOS 10.9 to 10.15, Intel based 2.8 GHz (i7 based 3.4 GHz recommended), 4 GB RAM ( 8 GB recommended), 90mb of disk space, 32/64 bit.
System requirements – Windows: Microsoft Windows 7 or later, 2.8 GHz SSE (i7 based 3.7 GHz recommended), 4 GB RAM ( 8 GB recommended), 90 MB of disk space, 32/64 bit.
Loopmasters Plugins Bass Master – budget pick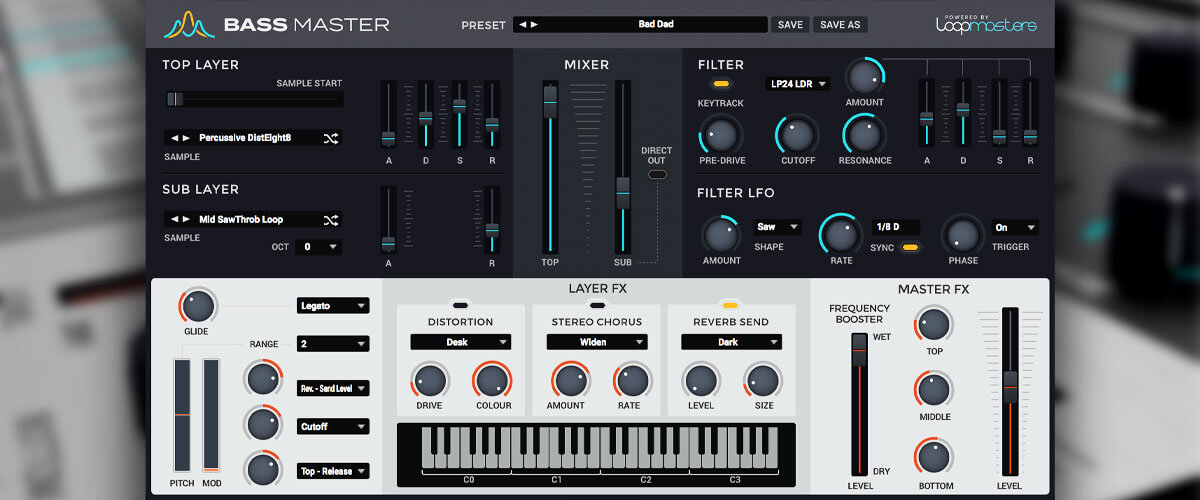 When you look for a digital synth that will let you create deep bass across different styles, you can't pass by the Loopmasters Plugins Bass Master. This sample-based bass machine is simple in use yet powerful enough to sound meaty and weighty at every turn.
The Bass Master plugin from the giant Loopmasters is dedicated solely to the creation of bass sounds, which is especially handy for creators of dance, techno, trap, and other electronic music. It has a huge bank of source sounds you can use and mix to add a fleshly background to your soundtracks in any genre. Create two layers (the top layer and sub layer) of sound with the curated set of 217 waveforms, which allow for making up to 50,000 possible combinations. In addition, you can find hardware classics and modern synth science effects to give freedom to your creativity and imagination.
This is a monophonic synth plugin, so it produces a single note at a time. However, with up to 0s of Portamento or Legato glide and 1-12 semitones of pitch bend range, you can easily adjust the movement of those single notes.
The interface of the Bass Master plugin is clearly laid out. So, you can easily find the sound you want in one window without hassle. By the way, you can randomize the samples with one button click.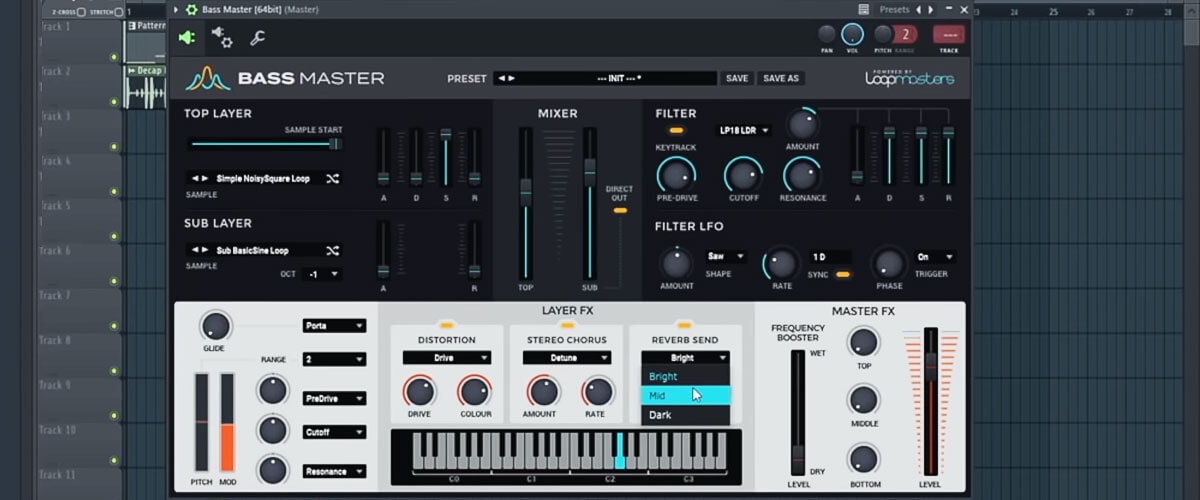 You will find 13 filter types to let you harness the sound in many ways. There are also three effect sets, including Distortion, Stereo Chorus, and Reverb Send to add different moods to the sound.
The Bass Master by Loopmasters delivers shaking sub-bass, and punchy mid's to create a solid background for your tracks. The samples I created with this plugin are fantastic, and I especially like how filters sound. Moreover, the Frequency Booster works great, adding an unfiltered and clean foundation. However, I think shallow modulation and the lack of onboard sequencing are the missing points in this synth.
This bass-making synth plugin is varied enough to help you produce basses suitable for different kinds of music. It's a great synth bass VST for the money as it carries a decent series of effects and allows the creation of two layers to deliver nasty and punchy bass noises.
Key specs
Platform: Mac, Windows.
Formats: AU, VST 2.
System requirements – Mac: macOS 10.12-10.15, 1GB RAM, 300 MB disk space, 64 bit only.
System requirements – Windows: Microsoft Windows 7 or later, 1 GB RAM, 300 MB of disk space, 64 bit only.
Spectrasonics Trilian – premium choice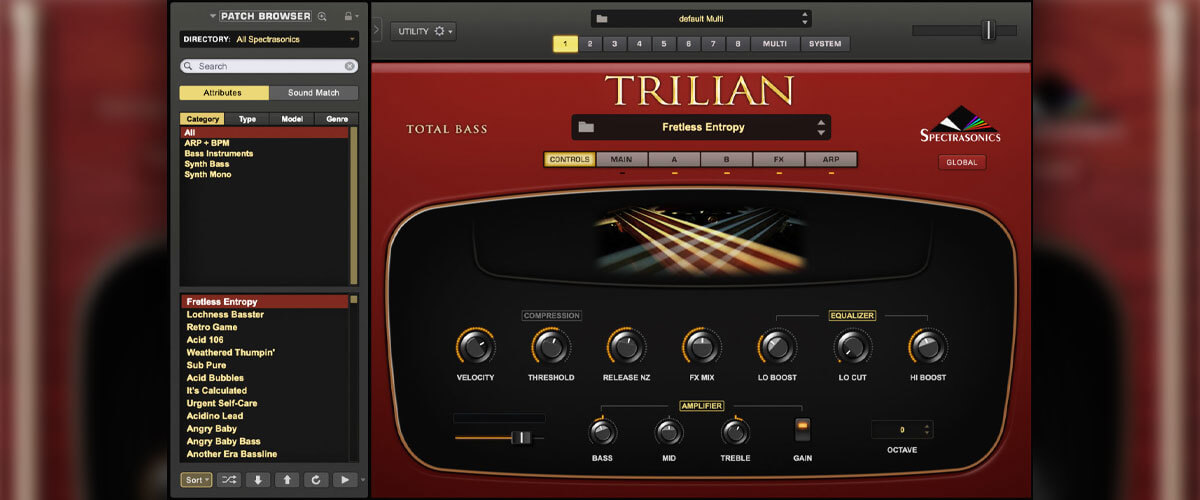 With the Trilian Total Bass Module by Spectrasonics, you can combine different types of bass to get the exclusive sound for your tracks. It is the most versatile bass virtual instrument, which has set standards in the industry and has become popular among professional music producers.
Trilian is a successor to Spectrasonics' Trilogy bass instrument line that takes this popular series to a new level. Along with the original Trilogy bass collection, this model boasts an ample number of new acoustic bass and bass sounds. They will serve as a solid foundation for your tracks, which will get new shades with spacious background scenes.
This plugin is based on the advanced STEAM Engine technology, which enables you to adjust the right controls to get vivid expressions from the bass. Furthermore, it is compatible with Omnisphere since they share the same engine. So, you can use any Trilian sound right inside Omnisphere.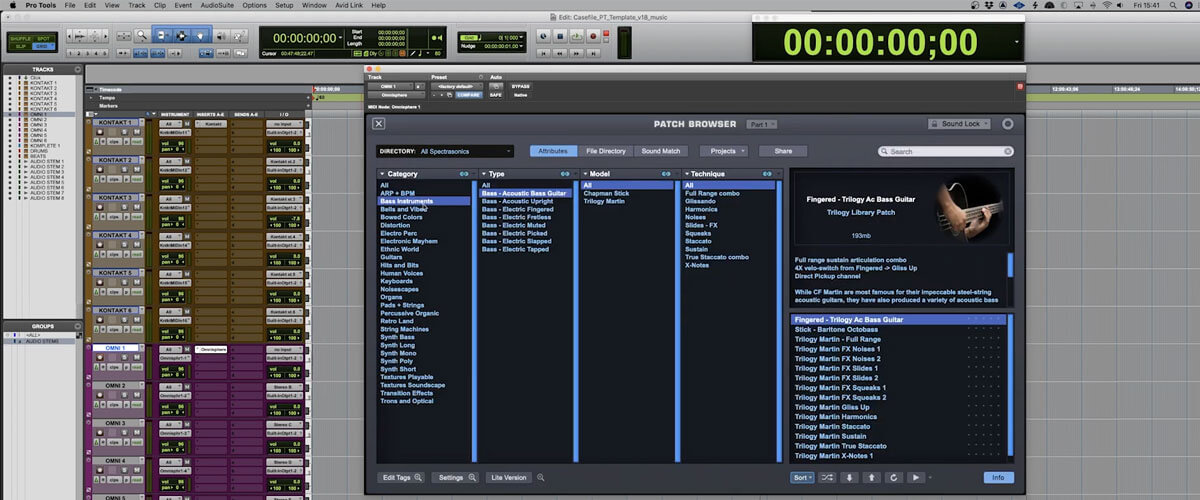 The Trilian's arpeggiator with Groove Lock for instant bass line syncs with any RMX groove or MIDI Files. Moreover, the Round Robin sampling feature is impressive as it allows for making bass lines with repeated notes.
In addition, a high-resolution interface facilitates the use of the Trilian plugin. It supports HiDPI displays and contains thousands of patches for added versatility and dramatic sound customization.
This bass synth exceeded my expectations in terms of sound quality. The sound detail is incredible, which is possible thanks to the ability to customize percussive and slides. In addition, it amazingly reproduces electronic bass, synth, and acoustic bass.
To sum it up, Spectrasonics Trilian synth bass VST is a premium-quality thing that delivers great detail and playability. This virtual instrument is easy to install and use thanks to its user-friendly design. This product's sound, nuance, and detail are incredible, so you won't regret purchasing this plugin.
Key specs
Platform: Mac, Windows.
Formats: AAX, VST 2, AU, Standalone.
System requirements – Mac: macOS 10.13, 2.0 GHz or higher processor, 8GB RAM, 36 GB of free hard drive space (72 GB for download installation), 64-bit only.
System requirements – Windows: Microsoft Windows 7 or later, 8GB RAM recommended, 36 GB of free hard drive space (72 GB for download installation), 64-bit only.
UJAM Virtual Bassist Mellow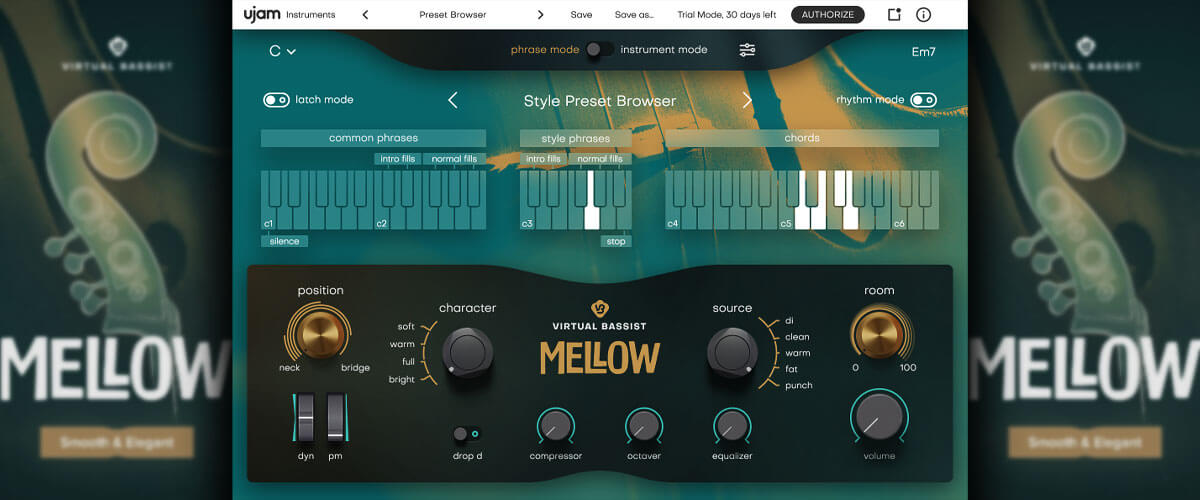 Let's meet one of the representatives of UJAM's Virtual Bassist series – Virtual Bassist Mellow. This synth bass VST plugin blends an intuitive user interface with extended functionality to inject meticulously recorded bass samples into your tracks. With this virtual tool, you will add juicy bottom shades to the melody with smooth and elegant bass.
If you've been looking for a virtual bass instrument that will let you make fascinating bass grooves easier and faster, the UJAM Virtual Bassist Mellow plugin is a match for you. It will unlock 1,380 sound phrases in over 60 styles to nourish your creativity. Make use of the Mellow's bass that goes from smooth to powerful, and utilize 15 built-in finisher effects to assemble new sounds that mix and match flawlessly.
With two modes of generating bass lines, you can get the freedom of how you want the tracks to sound. Use Player Mode to let the plugin automatically generate bass lines that follow the key and chord changes of the song. If you want to create custom lines for unique experiences, switch to the Instrument Mode. Elaborate the grooves from your MIDI controller or program lines on your DAW's piano roll, adding fresh notes to your tracks.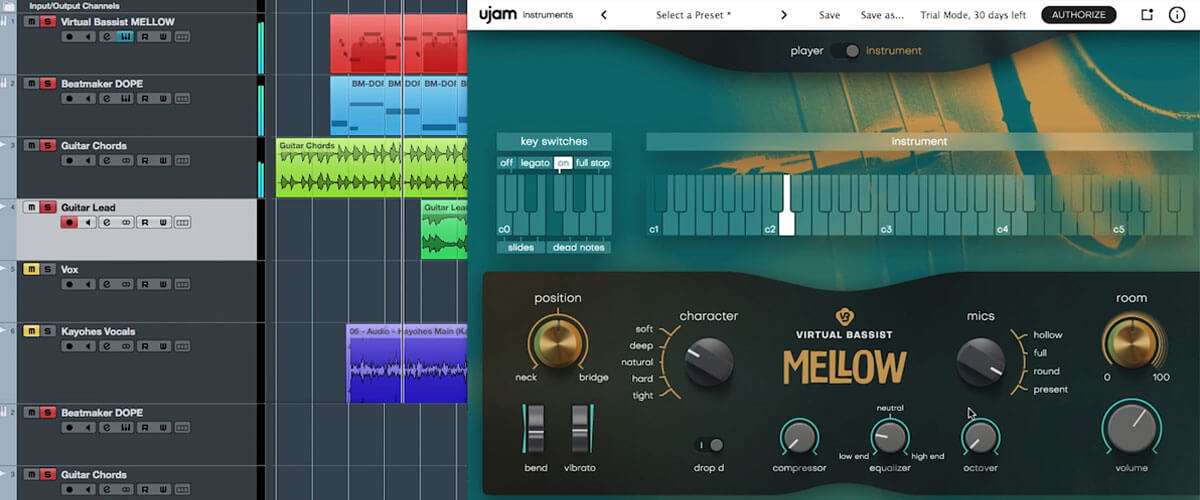 The latest version of the Virtual Bassist Mellow comes with a PreSonus chord and key track feature, which allows you to find the right sound solutions for your music creations.
The Mellow plugin delivers plenty of bottom with clear low-mid/mid articulation. I find the sound and attention to detail phenomenal in this bass synth VST. It has a lovely, full-bodied tone out of the box. As you can choose the tone options, including fingering position (from neck to bridge), a room dial for added body noise, a set of five character settings (from soft to tight), and the microphone position, you can make the bass sound as impactful as you want.
Wrapping it up, I want to admit that UJAM Virtual Bassist Mellow is a simple yet powerful virtual instrument packed with plenty of handy sonic and performance-enhancing features that will make creating bass-rich tracks a breeze.
Key specs
Platform: Mac, Windows.
Formats: AAX, VST 2, AU 2.
System requirements – Mac: macOS 10.12, 4 GB RAM, 6 GB disk space, 64-bit only.
System requirements – Windows: macOS 10.4 , 2 GB RAM, 125MB disk space, 64-bit only.
DopeSONIX Bass Engine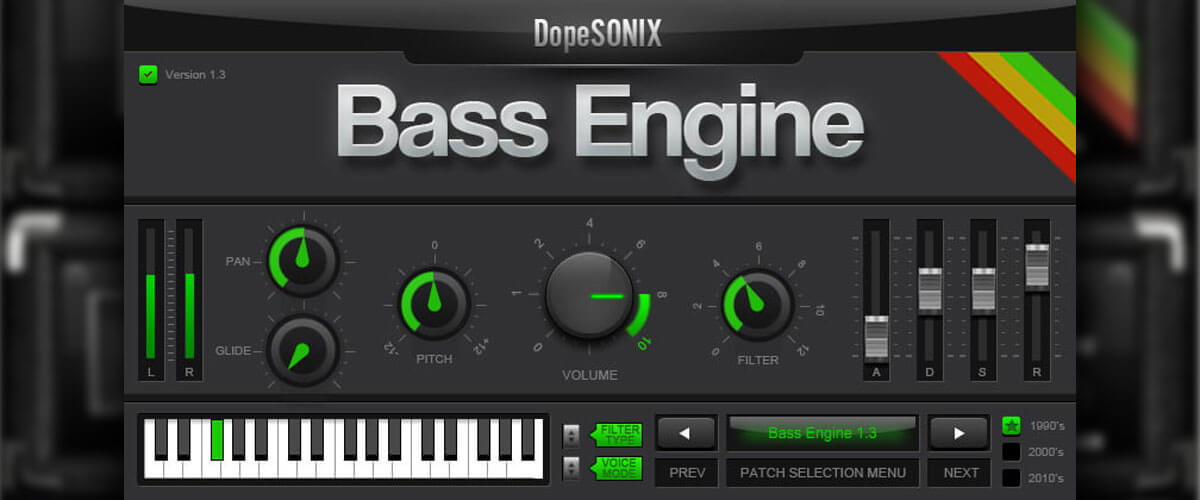 If you are looking for a bass synth VST that will unlock access to classic bass sounds from the last three decades of hip-hop without overloading you with other sound-tweaking options, consider the Bass Engine by DopeSONIX.
The greatest perk of this plugin is that it is suitable for relatively old processors. It weighs around 1.75GB and is compatible with 32- or 64-bit VST and AU versions, both on Windows and Mac. Its interface is simple and straightforward, which eliminates the guesswork. DopeSONIX Bass Engine has an on-screen keyboard you can easily trigger from any MIDI control surface.
The collection of presets is well-structured, so you can easily find the one that meets your needs. DopeSONIX breaks down hip-hop bass into three periods (1990s, 2000s, and 2010s), each containing 100 presets. Additionally, you will find 15 different 808 sounds, Moog Prodigy subs, Warm MS-20s, and other heavy, processed basses.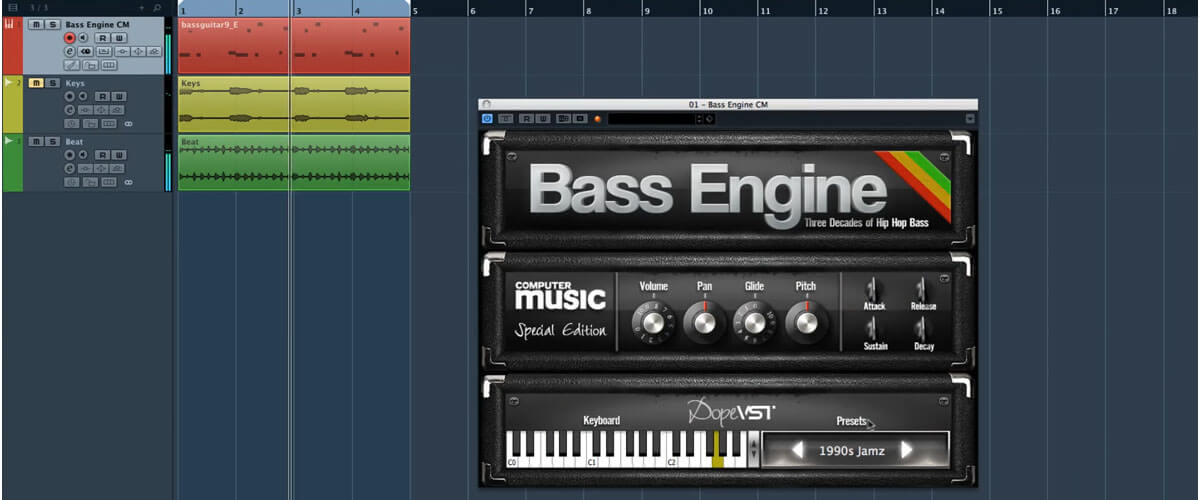 You can add bass to create fascinating hip-hop tracks with built-in pitch, pan, glide, and volume controls. Choose between the Mono, Poly, and Legato modes to influence your audio track's sound.
I believe that you can use this bass emulator in more genres than just hip-hop. It sounds amazing for EDM, jazz, trap, and rock as well. In my experience, epic textures, abstract stabs, and rich subs sound incredibly well. In addition, I like the deep tones and sub-bass it produces, which contribute to the music-making process.
If you want to recreate vintage analog synthesizers' sounds, DopeSONIX Bass Engine will make your dream come true. If you've been looking for a tool that will work straight off the bat for hip-hop, that's the bass synth plugin you should choose.
Key specs
Platform: Mac, Windows.
Formats: AU, VST 2.
System requirements – Mac: macOS 10.4 , 2 GB RAM, 125MB disk space, 64-bit only.
System requirements – Windows: Microsoft Windows XP or later, 1 GB RAM, 139MB disk space, 32/64 bit.
Best free bass synth VST reviews
Ample Bass P Lite II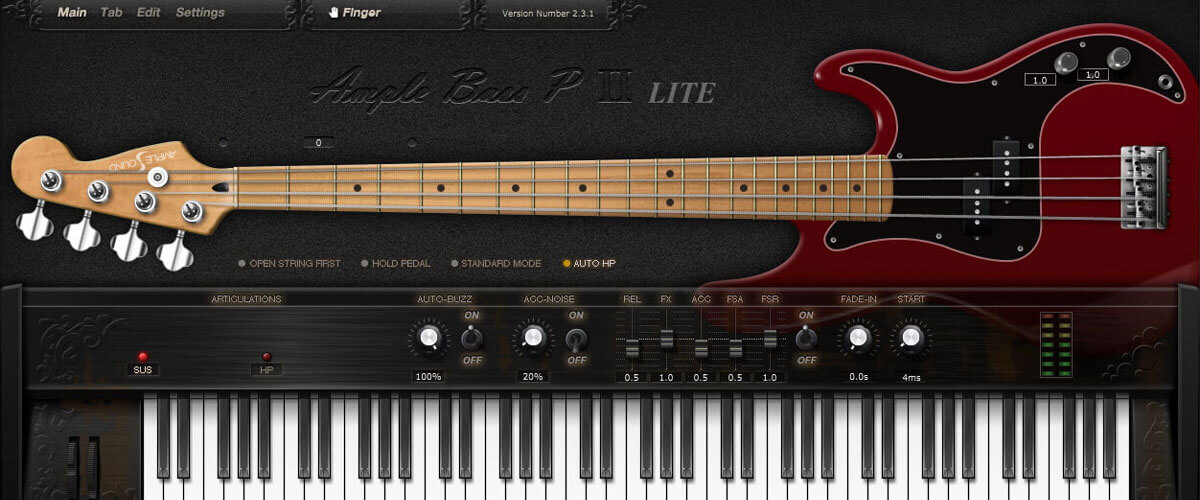 If you are on your way to discovering the world of bass emulators, start your journey with Ample Bass P Lite II, the best free bass synth plugin. Its sonic playback is truly impressive, so you can add meatier, harder-edged bass for your next production.
The Ample Bass P Lite II plugin holds 443 samples, enough to satisfy newbies' needs in the music production world. With the automatic and manual buzzing system, you can choose how you want the bass generated – with or without your interference. When you select an automatic mode, you can be sure that the Multiple Capo Logics will cover different performances, such as solo, chorus, and so on, for better reproduction. Thanks to the Slide Smoother, you won't hear harsh transitions in music, so your tracks will get a new dimension.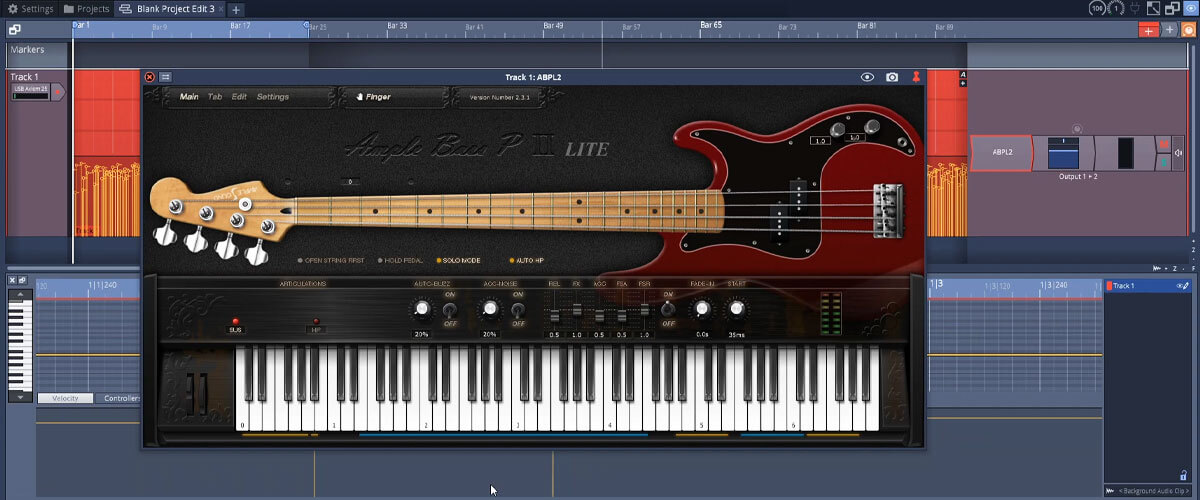 A Tab Player is probably the most distinct part of this bass emulator. With its use, you can play, display, and load a particular part within a tablature file. You can also use looping, articulations, or other common markers on your tracks.
Ample Bass P Lite II gives the realistic sound of string instruments. It's just amazing how a free software plugin can create such fantastic bass lines.
Key specs
Platform: Mac, Windows.
Formats: AAX, VST 2, VST 3, AU, Standalone.
System requirements – Mac: macOS 10.9, Intel i5 or higher, 8GB disk space, 64-bit only.
System requirements – Windows: Microsoft Windows 7 or later, Intel i5 or higher, 8GB disk space, 64-bit only.
We are supported by our audience. When you purchase through links on our site, we may earn an affiliate commission at no extra cost to you.
Our newsletter
* We will never send you spam or share your email with third parties