Want to create music from the comfort of your home? Thanks to the best drum plugins, you can make up unique drums and change their sound in multiple ways with just a basic computer or laptop. No need for expensive studios anymore!
Our pick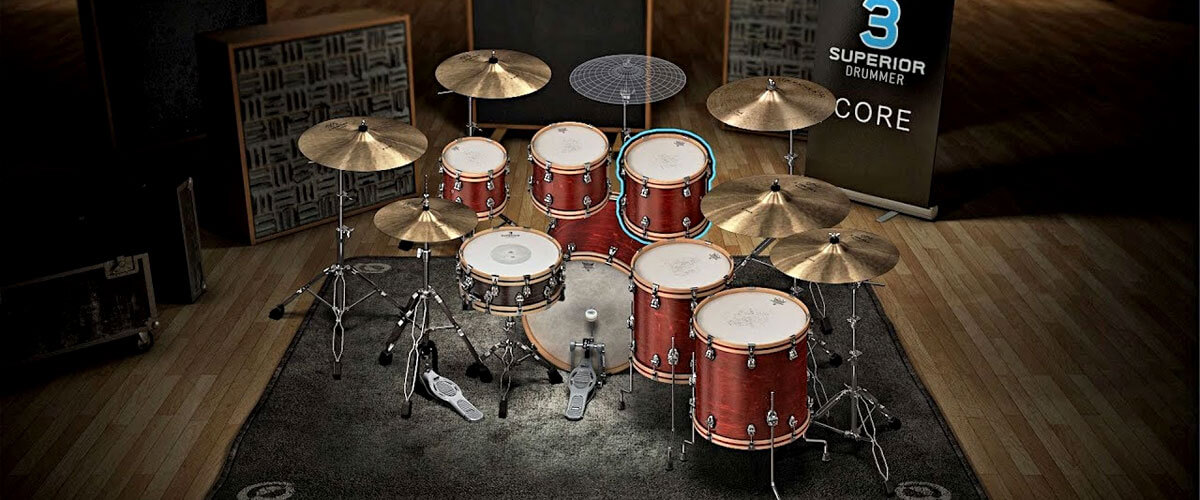 Toontrack Superior Drummer 3
Best drum VST
Superior Drummer 3 bridges the gap between acoustic and electronic and lets you venture into new sonic landscapes.
Read the full review
.
I've compiled a comprehensive list of the top-quality drum VSTs available on today's market to help you choose the perfect model for your needs. In addition, all drummer plugins have been individually tested and scored based on their overall performance and usability. So, just keep reading to get an idea of what they offer before making your purchase.
Best drum VST reviews
Acoustic drums
Acoustic drums are widely used in a variety of genres and styles. They provide a much richer, more varied sound palette that can add warmth and depth to your tracks. That's why having acoustic drums in your software collection is a vital part of creating professional-sounding music.
Toontrack Superior Drummer 3 – best overall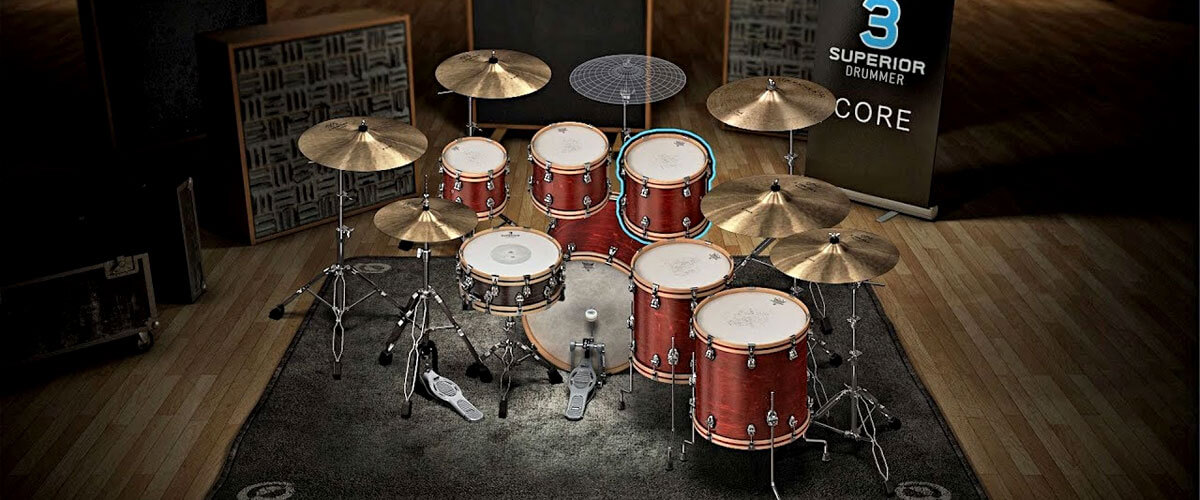 Toontrack Superior Drummer 3 is truly a revolutionary piece of software that bridges the gap between acoustic and electronic drums. Not only does it offer an expansive library of more than 230 GB of sampled drums captured in extreme detail, but it also provides users with seven kits, 25 snares, 16 kicks, 350+ electronic drum machine sounds, 35 sound processing effects, mix-ready presets for different styles and 35 mixer effects. This drum library was recorded at the legendary Galaxy Studios in Belgium by famous producer George Massenburg, known for discovering parametric equalization.
What makes SD 3 stand out from other drum sample libraries is its comprehensive MIDI library which offers users a wide range of musical styles to choose from. Moreover, the library was recorded using eleven additional room microphones set up in a surround configuration to give the sound an incredibly realistic feel. It also boasts optimized response and humanization options to make sure each hit feels unique; plus, up to 25 velocity layers per instrument ensure that beats can be played with a wide range of dynamics. Further, the instrument has individual mic bleed control and mic control so you can fine-tune your mixes according to your needs. There are also bus, route, and send options for greater mixing and sound design flexibility. All these features are especially useful for producers who need to quickly get great-sounding drums into their mixes without spending too much time tweaking parameters or creating custom sounds from scratch.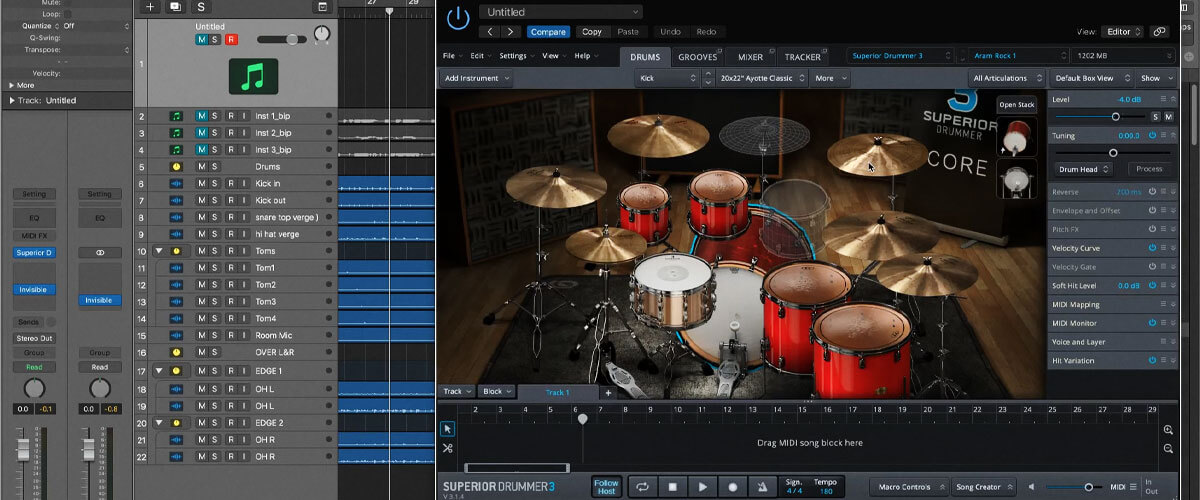 SD 3 allows you to add any Toontrack instrument into the kit without switching the windows. You can even import sounds to add your own unique samples and create a one-of-a-kind drum kit.
Another thing I love about this software is its expandable and scalable interface – adjust the view size and content within the interface's window to fit your screen. This is especially useful for laptops with limited display space.
Toontrack Superior Drummer 3 is an excellent choice for any musician who wants to have access to an expansive library with hundreds of sounds. This overall best drum plugin is technically flawless and packed with plenty of customizable features, and more importantly, its sound is the true triumph – rich and realistic. Perfect investment!
Key specs
Platform: Mac, Windows.
Formats: AAX, VST 2, AU.
System requirements – Mac: macOS X 10.10 or higher, or Apple silicon processor, 4 GB RAM (8 GB or more recommended), basic install – 41 GB disk space, complete install – 291 GB disk space, 64-bit only.
System requirements – Windows: Microsoft Windows 7 or later, 4 GB RAM (8 GB or more recommended), basic install – 41 GB disk space, complete install – 291 GB disk space, 64-bit only.
Steven Slate Drums 5 – perfect for the heavy music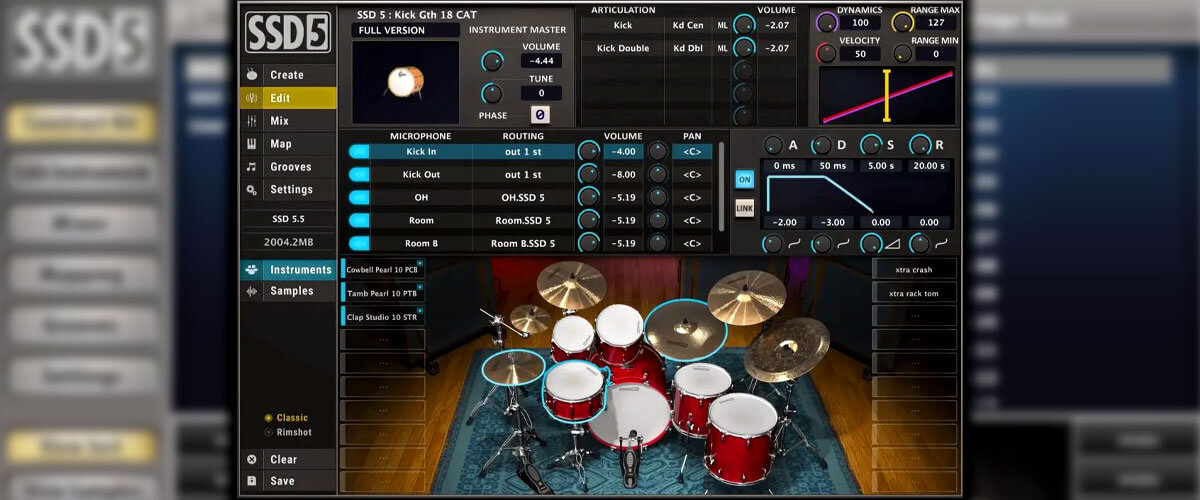 Steven Slate is a well-known recording engineer and plugin maker. He's produced plenty of successful drum virtual instruments, and SSD 5 is one of his top products.
It is a comprehensive studio solution designed with both live performance and recording engineers in mind. It comes packed with 148 renowned artists' and legendary modeled drum kits, over 2400 MIDI grooves, and over 400 instruments. With the new Smart-Velocity Triggering algorithm, any one-shot sample can be blended perfectly with the rest of your kit to create powerful sounds.
SSD 5 has versatile kits for rock, metal, jazz, funk, indie, reggae, and more. However, those of you who create heavy metal or rock will be pleased to know that the software can create just brilliant "heavy" parts. The drums sound punchy and easily break through the wall of brutal electric guitars and basses.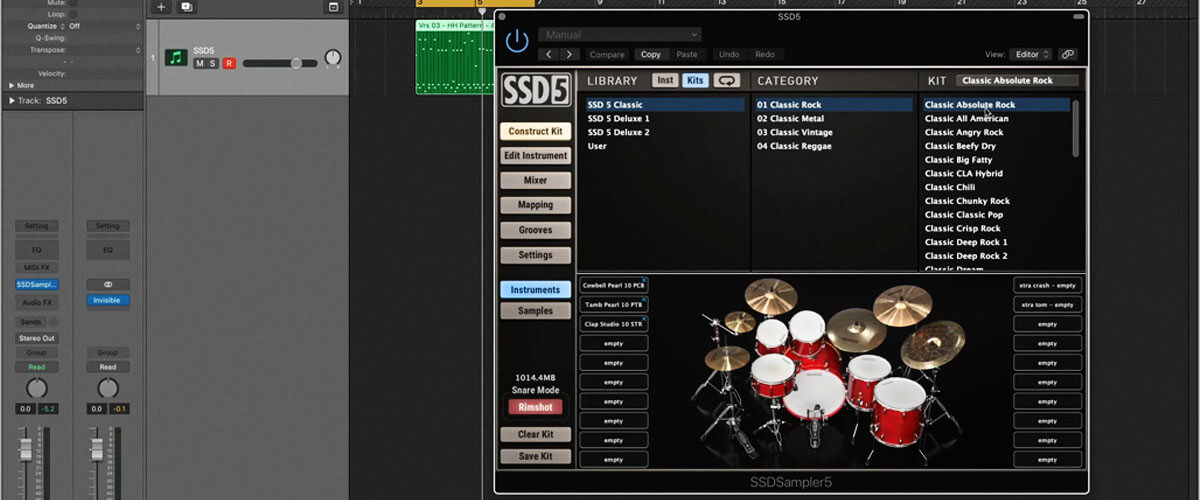 You'll have maximum control over each instrument's dynamics, panning options, and ADSR settings. Furthermore, the ability to mix ambient room mics and close mics with custom settings will allow you to achieve a professional sound without having to spend hours tweaking knobs and buttons.
The instrument selection is also top-notch – 135 snares, 112 kicks, 58 toms – all sound incredibly punchy when combined with 11 hi-hats, 14 crashes, 6 rides, 4 splashes, and 3 chinas. All of these were recorded on two-inch tape using analog processing for a truly authentic experience. Plus, if you want even more variety from your drums, the Grooves Parameters allow you to import 3rd party MIDI grooves into your project as well.
Finally, thanks to the Smart MIDI Learn & Map features, you spend less time mapping and more time playing, freeing up creative energy when developing new tracks.
Steven Slate Drums 5 is the best drum VST for heavy metal creators. However, it provides great-sounding drum samples for other genres as well. And the cherry on the top – this instrument gives you total control over every aspect of your production without breaking the bank or taking too much time out of your day!
Key specs
Platform: Mac, Windows.
Formats: AAX, VST 2, AU, Standalone.
System requirements – Mac: macOS X 10.10 or higher, 1 GHz Intel Dual Core Processor or AMD equivalent, 4 GB RAM, 64-bit only.
System requirements – Windows: Microsoft Windows 7 or later, 1 GHz Intel Dual Core Processor or AMD equivalent, 4 GB RAM, 64-bit only.
XLN Audio Addictive Drums 2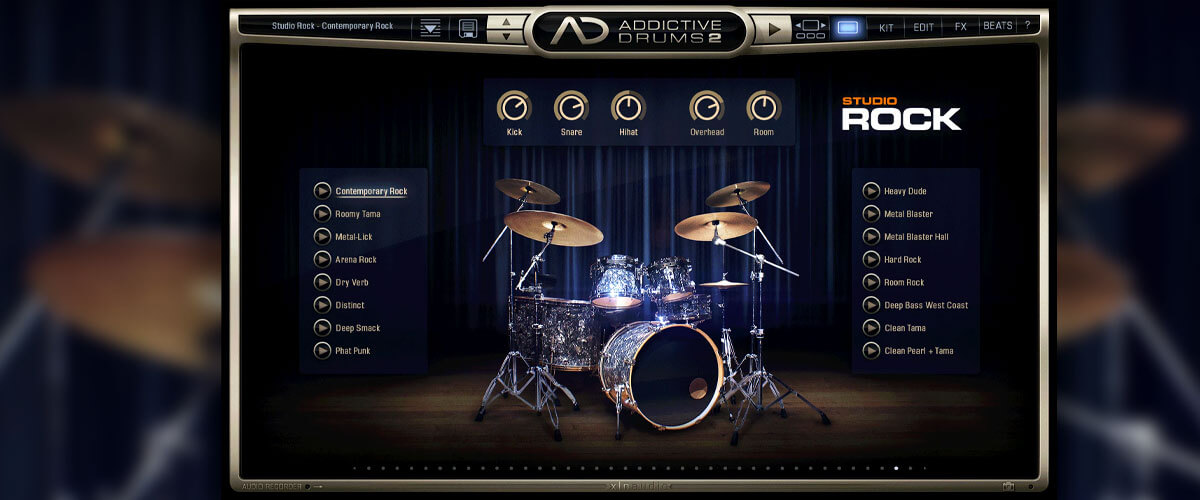 XLN Audio's Addictive Drums 2 is a drum software designed to meet the needs of music professionals and hobbyists alike. Featuring world-class studio recordings, this realistic drums VST embraces many kits from the 1960s to the present day, allowing you to create custom sounds with extraordinary accuracy. The sound quality is fantastic, with each kick and snare kit piece having its signature frequencies- all of them adjustable for velocity response. Among the libraries for this instrument, you can find not only emulations of classic drum kits but also creative imitations of the sound of a drum machine.
At its core, AAD 2 provides three separately purchased module types: ADpaks (kits), MIDIpaks, and Kitpiece Paks (individual sound expansions). In addition, each purchase brings an array of ready-made presets that can be further customized using tweakable controls.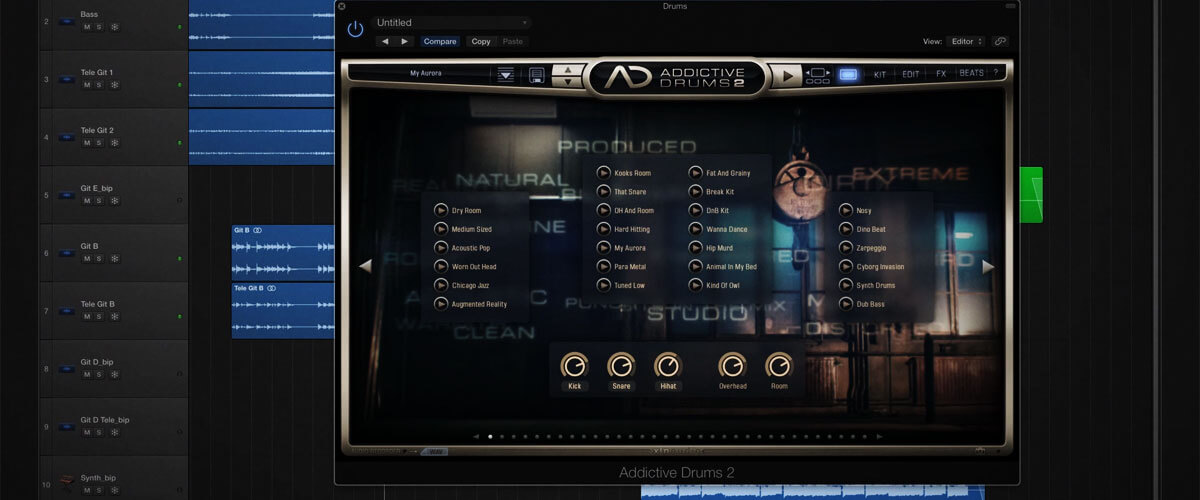 The software comes pre-installed with a selection of MIDI drum grooves that you can use as building blocks to construct a variety of tempo-based beats and rhythmic patterns. I'm sure beginners will really appreciate it!
The unique feature loved by many producers is XLN's Cloud storage. You can keep all your settings there and share them with other users – and all without ever leaving the interface.
If you are a novice musician looking for wallet-friendly yet quality & realistic software drums, XLN Audio's Addictive Drums 2 may be the best pick for you. Although it can't boast such an extensive library as our two top products, it still has everything you may need as a beginner. Plus, you'll definitely love its tweakable parameters, adjustable effects, and super convenient features.
Key specs
Platform: Mac, Windows.
Formats: AAX, VST 2, AU, Standalone.
System requirements – Mac: macOS X 10.10 or higher, 64-bit only.
System requirements – Windows: Microsoft Windows 7 or later, 64-bit only.
Electronic drums
Electronic drums are particularly significant in modern pop, hip-hop, and EDM music. Many songs become successes thanks to catchy drum parts. Therefore, it is critical to select an instrument that not only allows you to use the manufacturer's libraries but also allows you to easily program and mix your own sound banks into the sampler, resulting in unique sequences.
XLN Audio – XO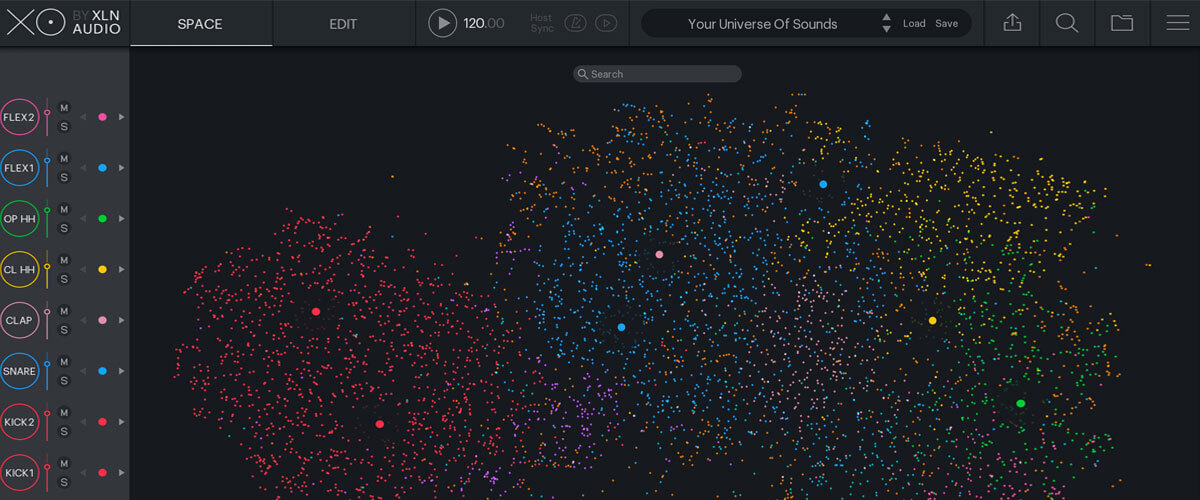 XO is a unique plugin for drums designed to spark your creativity. The instrument is more than just a sampler library – although it boasts more than 8000 samples, you can load your own one-shots from your sample pack collections. This is what makes it stand out against many competitors out there.
However, my favorite thing about XO is its gorgeous space-themed interface, which simultaneously displays literally a whole universe of sounds. Drum samples are grouped and tinted in a separate color according to their categories – kick, snare, hi-hat, etc. The blazingly fast browser makes it possible to quickly and easily play through hundreds of samples in quick succession until you find the one you like. Moreover, after analyzing the sound you have chosen, the software tries to find a similar one based on various parameters such as duration, pitch, character (live or electronic), and much more. You can also use the instrument to construct your drum rhythms; plus, it allows you to change sounds on the fly while playing a sequence.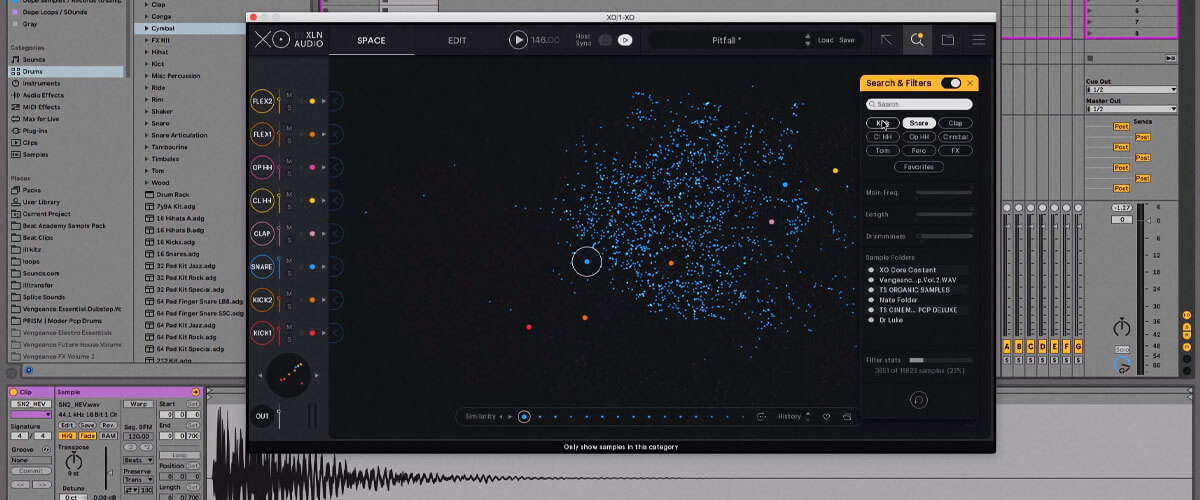 The manufacturer provides pre-recorded grooves (loops) that can serve as a jumping-off point for your creations. And it does not ignore the effects section, allowing you to process and edit sounds within the box.
XLN Audio XO is the best software drums tool in terms of design. It not only looks beautiful but also is super efficient when selecting samples to build your kit. A truly unique instrument that goes far beyond the ordinary sampler!
Key specs
Platform: Mac, Windows.
Formats: AAX, VST 2, AU, Standalone.
System requirements – Mac: macOS X 10.10 or higher, 64-bit only.
System requirements – Windows: Microsoft Windows 7 or later, 64-bit only.
AudioThing Drum Machines Bundle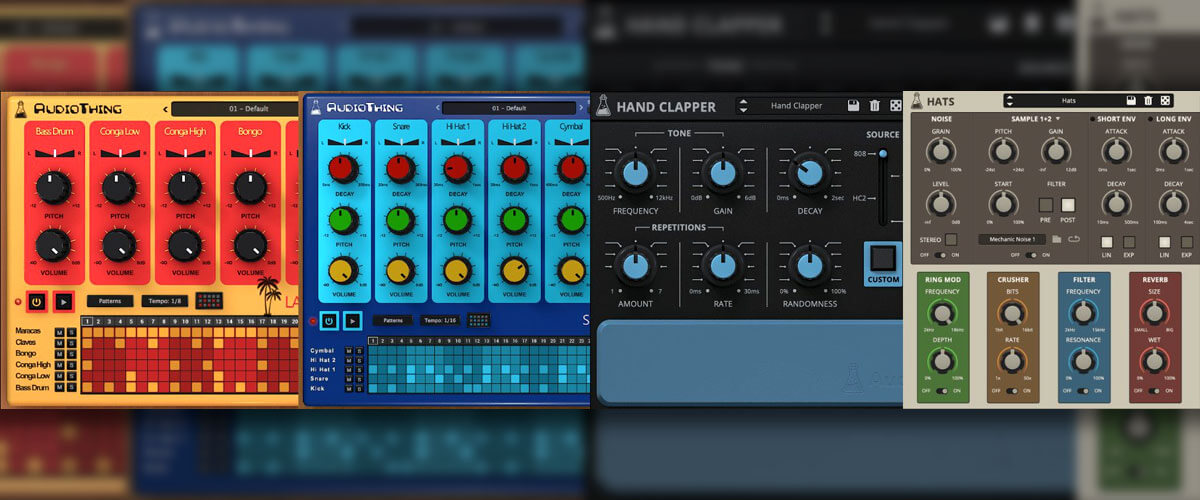 AudioThing Drum Machines Bundle is a must-have if you want to recreate the sound of iconic classic drum machines. For example, the SR-88 emulates the Sound Master Memory Rhythm SR-88 analog drum machine from the 1980s, the sounds of which may still be heard in modern music. Hand Clapper includes the 808, 909, HC2, and other legendary clap sounds. Latin Percussion handles all aspects of crafting classical Latin drum loops. Hats will provide you with hi-hats and cymbal sounds based on the most well-known TR 808 drum machine. To enhance the quality of the samples, the manufacturer used a vintage Revox B77 MkII tape recorder and an Aphex Aural Exciter.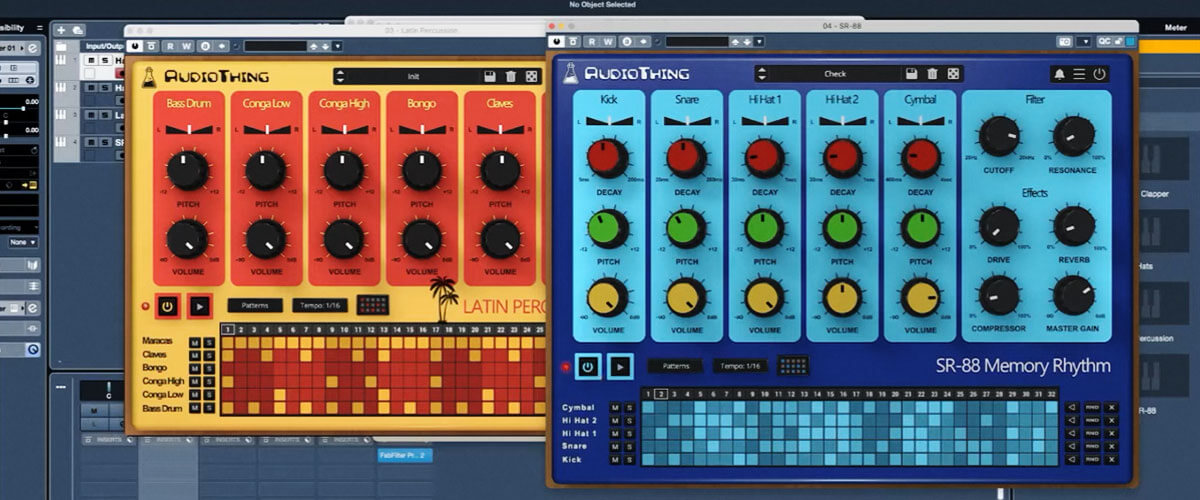 Overall, I love this drumming program because it provides a varied collection of vintage drum sounds for modern music makers. Plus, the quality of the samples is excellent, and you can easily tell that special care went into recreating these classic tones!
Key specs
Platform: Mac, Windows.
Formats: AAX, VST 2, VST 3, AU.
System requirements – Mac: macOS X 10.9 or higher, 2 GHz CPU, 4 GB RAM, 64-bit only.
System requirements – Windows: Microsoft Windows 7 or later, 2 GHz CPU, 4 GB RAM, 64-bit onlyt.
Best free drum VST reviews
MT Power Drum Kit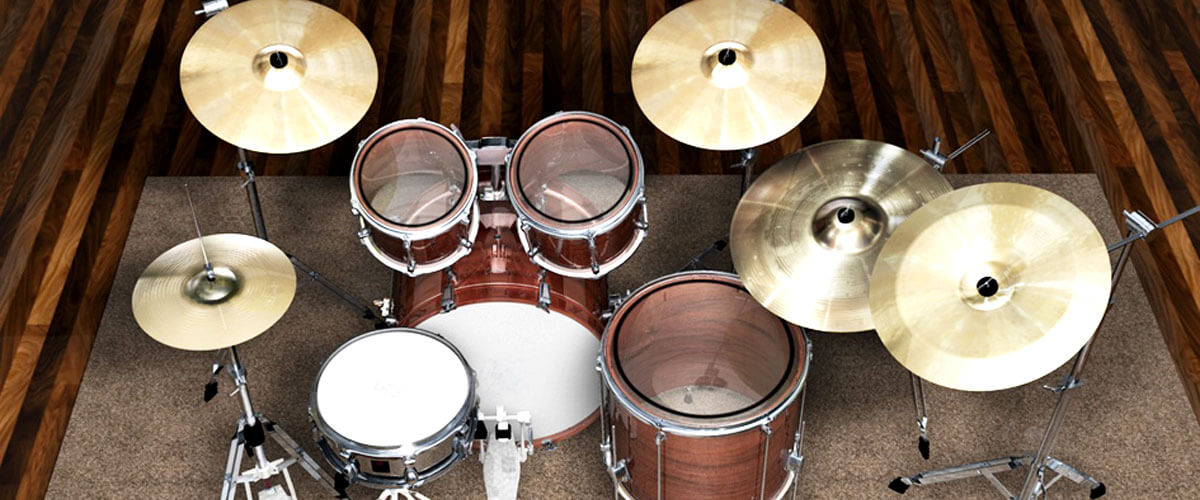 If you aren't ready to invest in a pro-level plugin and only want to test the waters, then you need quality free drumming software. MT Power Drum Kit has a lot to offer for novice musicians.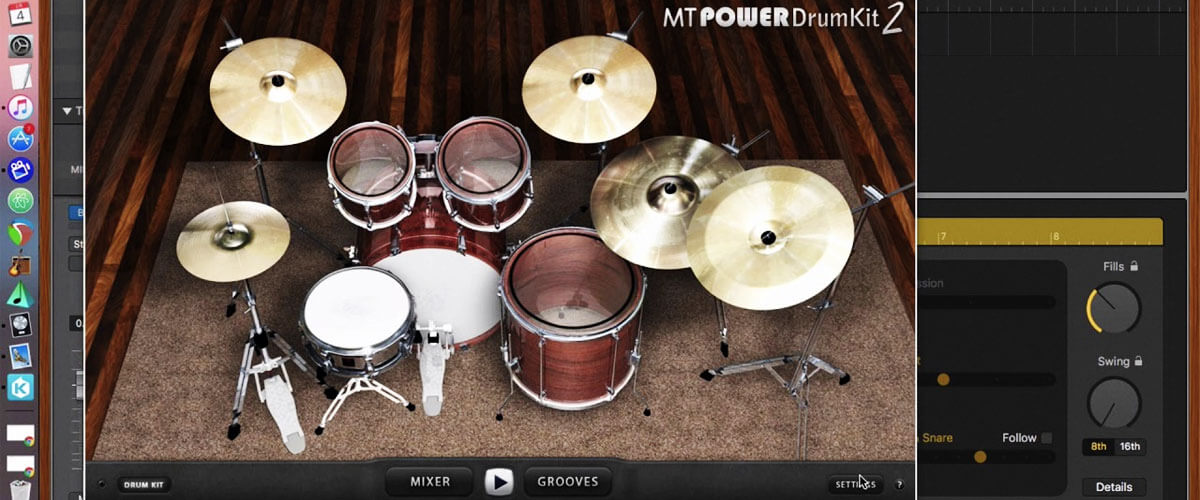 It's versatile enough to work well for rock, metal, and pop productions. Moreover, the manufacturer included all basic features, just like in paid counterparts. The instrument has a mixer, effects, pre-processed sounds, a set of MIDI grooves, and flexible routing. Also, you can download not only the instrument itself but also extra pre-sets and MIDI mapping.
MT Power Drum Kit is the best free drum VST instrument for learning how to program live drums and creating quick demos.
Key specs
Platform: Mac, Windows.
Formats: AAX, VST 2, AU.
System requirements – Mac: macOS X 10.5 or higher, Intel or ARM (M1/M2) cpu, 86-bit, 64-bit.
System requirements – Windows: Microsoft Windows 7 or later, 86-bit, 64-bit.
FAQ
What drum plugins do producers use?
Professionals in different music genres usually use versatile
VST plugins
that address many tasks. Such plugins typically feature both acoustic and electronic drums in their stack. So, it's highly recommended to have at least one acoustic drum VSTi with different settings and one sampler to which you can add your own sample kits.
What frequency is the best for drums?
Usually, the low-frequency rumble is around 40-60 hertz, so I advise you to use a high pass filter to free up that space for low-frequency instruments like kick drums, toms, or bass. If you want your sound to become dense, consider the frequency range from 80 to 200 Hz. The "loudness" of your sound in the mix lies in the midrange of 300 Hz to 1.5 kHz, so pay attention to this, using the equalizer. In the area of 2-4 kHz is the attack of your instrument. By carefully adding these frequencies to individual instruments, you emphasize articulation. Everything from 5 kHz and above is responsible for the readability and "sandiness" of your sound.
But when adding or removing frequencies in these ranges, be very careful, listen, and compare the result "before and after" in the song's context. After all, a few decibels in one or another range can either beautify your sound or harm it.
What VSTi should I choose first?
The answer to this question is entirely up to you. For example, if you already have musical instruments or VSTi plugins that cover most of your needs, this is an excellent time to choose decent drum software. Indeed, you can hear many songs where the performers do not use drums. But what about those hits where the central groove is based on the rhythm section? Even if you don't have many tracks where you can use live or electronic drums right now, rest assured you will need them in the future.
We are supported by our audience. When you purchase through links on our site, we may earn an affiliate commission at no extra cost to you.
Our newsletter
* We will never send you spam or share your email with third parties